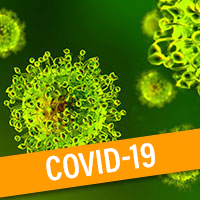 Since lockdown eased, alarming COVID-19 surge
STORY BY LISA ZAHNER

Last week, Vero Beach – which generally only makes it into the national press in stories about leading places to retire – was labeled by the New York Times a "rising  hot spot" for COVID-19.   
On a map accompanying a story about a surge in nouvelle coronavirus cases in Florida and Texas, Indian River County stood out for nearly doubling the number of people who tested positive in the past two weeks.
While the total number of cases here remains comparatively low, the surge since the easing of the lockdown order has been alarming.
The barrier island, where more than a month passed with no new cases, now has registered four new cases – an increase of over 40 percent – in little more than a week.
At press time the countywide count stood at 216 positive cases. The county's death toll had risen to 13 with the death of a 41-year-old woman, our youngest local victim by nearly 25 years.
The median age of people testing positive has skewed much younger in June. Hovering for months in the 60s, it's now down to 50 years old.
So many children have been testing positive across Florida that a brand-new report appeared on Monday devoted to pediatric cases.
Of the 142 kids tested here in Indian River County, a worrisome 9.2 percent or 13 youngsters tested positive, ranging in age from infant to 17.
We don't know how this extrapolates to the rest of the county's young population, since kids represent a scant 1.5 percent of the 9,000 people that thus far have been tested.
The emergence of these very young people who have tested positive coincides with the first real "sentinel testing" of asymptomatic people by the Health Department out in the Fellsmere, Gifford and Wabasso neighborhoods.
That begs the question, how many local kids would test positive if sentinel testing was widely available?
School officials are keeping a close watch on the rate of infection among kids as plans to reopen school in August are due out in the coming weeks.
School Board candidate Brian Barefoot is watching the virus data he receives in briefings as a board member of the Indian River Hospital Foundation. He also served as a board member of Blue Cross Blue Shield of Massachusetts and Array Health Solutions, and gets reports from the front lines where his daughter is a pediatrician in Boston.
"A high positivity rate like this in children could have a lot of implications," Barefoot said.
Though it's been shown that the very young don't experience serious COVID-19 illness seniors do, kids can fuel the spread of a virus.
"What you get is little Johnny who goes to school and gives it to his buddy and his buddy goes home and gives it to a parent or even a grandparent who could have some real problems," Barefoot said.
Barefoot agreed it's not possible or wise to keep everything shut down indefinitely, but said the school district should be planning for every contingency, up to and including the logistics of potentially testing every student and teacher before classes resume in August.
And for the families who can't or won't send kids back to a physical classroom until they feel it's safe, there needs to be a distance-learning alternative. "Everybody's situation is different," Barefoot said.
On the opposite end of the demographic spectrum, 11 nursing homes and assisted living facilities were battling coronavirus as of press time, with the latest reported outbreak at Indian River Estates (see related story) where 18 people tested positive – all asymptomatic.
Anyone should be able to get tested, regardless of symptoms, at the hospital testing center.
Yet, people calling the Cleveland Clinic Indian River Nurse Triage Line must still meet certain criteria: "Anyone over the age of 16 who has a fever and respiratory illness (such as cough, runny nose, sneezing) or any patient with a fever and gastrointestinal illness (such as diarrhea, vomiting) is eligible for testing, by appointment only."
Indian River County Health Department Director Miranda Hawker said at last Friday's COVID-19 press conference that she did not know how many of those testing positive here were asymptomatic, but that the Centers for Disease Control and Prevention estimates that 35 percent of all people who have tested positive are asymptomatic or pre-symptomatic.
The past six weeks have clearly and consistently shown that the more we test, the more cases we find.