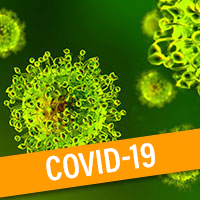 State finally doing more COVID-19 testing in elder care facilities
STORY BY MICHELLE GENZ

An ambitious statewide testing initiative is finally drilling down on Vero Beach's real-time COVID-19 positives in long-term care facilities. But the effort, inexplicably veiled in secrecy, does not explain the uptick in cases over the past week.
Only one of the facilities showing up for the first time on the state report on COVID-19 positive long-term care facilities was the result of health department testing. Rosewood Manor, a 50-bed assisted living facility south of Leisure Square, had two residents test positive though neither had symptoms.
A second facility new on the list, Solaris Senior Living on Indian River Boulevard, showed up on the report after a staffer who had been trained not to come to work if he felt sick got himself tested and turned up positive. He is now recovering and in the 14 days since he was last at Solaris, no one has turned up with symptoms. But Solaris has seen no sign of a government testing team.
A third facility new to the list, Grace Rehabilitation Center, long considered among the best of the county's skilled nursing facilities, has an asymptomatic COVID-19 positive patient. That patient is a recent admission who had tested negative through rapid testing prior to being discharged from Cleveland Clinic Indian River Hospital.
Since May 5, hospitals have been required to test all patients being discharged to long-term care facilities, regardless of their symptoms. Grace only recently resumed taking new patients, waiting until that COVID-19 protocol was in place and things "felt safe," director Randall Rees said.
Rapid testing gives results within 45 minutes or less, but it can be less reliable than testing sent off to labs. The Abbott rapid test – processed in a toaster-sized machine that costs less than $5,000 and has been suggested for permanent use in long-term care facilities – has been in the news lately for its significant rate of false negatives.
Grace administered its own swab test as soon as the patient came to the facility; days later, that swab turned up positive.
When Rees got the call last Saturday at one in the morning, his staff flew into action. "We took every precaution, even in the middle of the night," said Rees.
The wing where the patient was isolated was transformed into full quarantine. "That unit is completely blocked off now, almost like a separate building with a separate entrance."
Rees called the hospital, which agreed to re-test the patient that morning. That second rapid test at Cleveland Clinic also turned up negative. The patient remains isolated at Grace as the rehab center awaits results from a retest of its original swab sample.
Whichever way that patient's results turn out, Rees is hoping for a state team to arrive Wednesday to test Grace Rehab facility wide.
The state testing initiative, still under wraps and scattershot so far, comes at a time when long-term care facilities could not be more imperiled, as Florida begins to re-open.
Nearly half the COVID-19 deaths in Florida are of people in long-term care. That's 1,200 people, and the rate of deaths is rising rapidly since the re-opening, up by around 25 percent the first week and 15 percent the second. State records show the total number of deaths attributed to COVID-19 nearly doubled in May, while deaths in long-term care facilities tripled.
The Isles of Vero also saw its first COVID-19 case last week, a resident who had traveled and developed symptoms during a required 14-day quarantine.
Thanks to the rapid-test at the hospital, the sick resident was cared for by staff with proper PPE, and isolated under full COVID-19 protocol.
Solaris Senior Living, where a staff member tested positive, has yet to have testing throughout the facility, even though it has regularly told the state in a daily report that it has the capability to conduct the tests if the state mails them the kits.
"Gracious, it's been over a month that we've said 'yes' to that question," said Leslie Williams, Solaris of Vero's executive director.
As more facilities are turning up positives, the candor level appears to have risen. While the Health Department, consistently praised for its efforts by the long-term care facilities, continues to be nearly mute in sharing information with the media, a growing number of assisted living and skilled nursing facilities are speaking openly not only to residents and families but publicly as well.
Solaris is showing remarkable transparency on its website, listing not only the number of COVID-19 positive cases at the Vero facility, but also, whether staff or residents are exhibiting symptoms, regardless of testing.
By contrast, HarborChase, where five people have died among 11 infected, still makes no mention of its current COVID-19 status on its website. The latest post, dated May 29, had to do with Father's Day preparations.
Sonata too has been candid about its proactive testing, even though the resulting five positives – all from people without symptoms – has earned the Vero facility a spot on the state's long-term care facility COVID-19 report. Unlike the other facilities being tested by the state, Sonata continues to test periodically, a key component to controlling an outbreak.
Renaissance assisted living also has spoken openly about its lone case, a staffer. Grace Rehab, affiliated with Renaissance, also aims to be transparent, said director Rees. While concerned for the privacy of his facility's COVID-19 patient, Rees wanted to share the shifting circumstances, often beyond his control, that landed Grace Rehab on the state list.
"Our process works exactly as it was supposed to," he said. As for the decision to immediately re-test the new resident who had just tested negative at the hospital, Rees didn't mince words.
"I don't trust anyone else to do what we need to do to protect ourselves and our people."
If the state comes through this week and tests facility-wide at Grace Rehab, it will give Rees and his staff a critical baseline to work from, whether or not the current positive patient remains on premises.
The Isles of Vero had already told its residents by letter that a baby step was in the works – a few select activities would resume for small groups. Isles residents have had an especially long time in quarantine; at the beginning of March, they were told to stay in their rooms because of an outbreak of norovirus, a highly contagious virus which causes gastrointestinal symptoms. In all, 32 of the Isles' 212 residents came down with the bug, with many needing hospitalization.
The quarantine was extended on March 11 when the illness continued to spread. Then on March 15, elder care facilities across the country went into COVID-19 lockdown.
Residents have been isolated in their rooms, seeing only their aides who tidy up, hand out medications and bring meals to their rooms. Families have not visited for three months – two weeks longer than other facilities.
The Isles had a scare April 24 when a letter was sent to residents and their families that an associate was being tested for COVID-19. It took a full week to get the results back – the person was negative.
Then two days before the date the Isles of Vero had promised it would resume activities for small groups, a resident in its independent living wing came down with COVID-19 symptoms.
The same Sunday afternoon that the Department of Health was scheduled to swab every resident and staff member, the resident – who had traveled – got a rapid test at the hospital and turned out to be positive. Despite the revelation, it still took the Department of Health more than a week to get results back facility wide. Results were not known when this paper went to press Monday.
That delay meant any staff person who may have caught the virus but had no symptoms would still be circulating among the residents and fellow staff.
And for now, there will be no small group activities, at least until COVID-19 is cleared from the building.
Zoe Morejon, the longtime director of Rosewood Manor, said the Health Department tested all 50 of its residents plus staff last Wednesday. Results came more quickly for Rosewood – two residents were infected but had no symptoms. Only testing would have clued the caregivers in to the presence of the disease.
"It's a scary situation – even we didn't know since they were asymptomatic," Morejon said. "But we need to control our fear with a lot of confidence and just keep doing what we were doing before: taking staff's temperature at the start and middle of each shift; using all the protocols and the PPE; continuing to educate the staff that they have to take precautions when they go shopping and outside. We need to be smart – no freaking out."
Morejon said generally she, her staff and residents are much calmer about having COVID-19 in the building at this point than if they have seen positives right at the onset of the pandemic. "In the beginning, everybody would have said, 'Oh, my god!' Now everybody's prepared. We can do our care in a calm way and focus on what the resident needs."
That sense of calm is particularly important now, she says. While the passage of time may have taken the edge off any panic on the part of staff and families, it has exacerbated the loneliness of the isolated residents.
"It's not only about fighting coronavirus; it's about fighting isolation and depression. They all want to see their families," Morejon said. "The virus has been on the outside a long time. That means the residents have been inside a long time, isolating. It's affecting them. And the staff has to stay strong to be able to explain to them what is happening in this moment. We have to be able to tell them why they have to use a mask if they want to get some sunshine. They don't all understand why they have to."