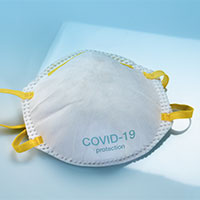 Teachers and pupils to be masked when public schools reopen Aug. 10
STORY BY GEORGE ANDREASSI

School Superintendent David Moore will unveil plans Friday for reopening Indian River County public schools on Aug. 10, including reducing class sizes and promoting virtual learning to prevent the spread of COVID-19.
One of the key points he told Vero Beach 32963 he now intends to announce is that masks will be mandatory at schools for teachers, staff and students.
Moore's presentation on the School District's Facebook page starting at 1 p.m., Friday will include short videos showing new health and safety measures put in place on school campuses districtwide.
Roughly half the 3,000 parents who responded to a recent survey want to send their children back to school every day under federal Center for Disease Control guidelines, Moore said.
"It tells us there's not an overwhelming feeling in terms of we're ready to go back," Moore said about the survey results. "Parents want kids to go back to school, but not at the jeopardy of their safety."
About 38 percent of parents want students to attend school five days a week, with two shifts per day to reduce class sizes and maintain social distancing, Moore said.
Approximately 30 percent of parents would prefer for students to attend school on alternating days and participate in online classes on days they are not in school, Moore said.
Roughly 25 percent of parents said they would consider virtual learning on computer, Moore said. The district's virtual learning curriculum is more robust than the emergency system rolled out after schools closed in March.
Ahead of his upcoming Facebook presentation, Moore gave the School Board some details about what he has in mind, telling the board on June 9 "we will be going down a path that ensures we are prepared for whatever that reality would be.
"We will prepare for a Monday through Friday opening under the traditional times," Moore said. "We will prepare for an alternating day schedule, which will give us a little more flexibility in space and size.
"There is considerable need to continue to support and push the virtual space, which we fully intend to do," Moore added.
School Board members Laura Zorc and Jacqueline Rosario predicted the district's virtual schooling options will become much more popular, particularly for students and families with health issues.
"Who knows if we're going to have a boom in our virtual school attendance, where kids will [transfer in] by the droves, or parents will choose to have their child transferred into that school," Rosario said.
The Facebook video will show the social distancing measures put in place on school buses and campuses and in classrooms and cafeterias. It will also show the cleaning and sanitizing techniques used on buses and campuses.
"Think of it as a day in the life of a student returning to school in the fall," School District spokeswoman Cristen Maddux said of the reopening video.
The temperature of students and employees will be taken to screen out anyone with a fever, Moore said. There will also be widespread hand washing.
Uncertainty about how widespread the COVID-19 pandemic will be in Florida by August forced school administrators to consider options in case Gov. Ron DeSantis further opens society, or decides to pull back, Moore said.
"We don't know if it will hit Phase 3, which will be the last phase of returning to normal prior to the opening of school," Moore said.
"The presentation we give to the entire community on June 26 will clearly define all options – the brick and mortar, Monday through Friday schedule, as well as the opportunity, if you're uncomfortable with that, to explore virtual schooling," Moore said. "At that time, we will have more information about what that will look like."
School Board member Mara Schiff said all the uncertainty makes it difficult to plan very far ahead.
"We have absolutely no idea what it's going to look like a week from now, two weeks from now, a month from now," Schiff said. "Of course, the best thing we can do is prepare for all these different scenarios.
"As people are becoming less socially distant, it is possible our risk increases, but we don't know what that looks like yet," Schiff said. "It's hard to prepare. The context changes moment from moment and we simply don't know."