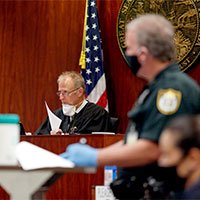 'Tidal wave' of court cases makes social distancing a challenge
STORY BY RAY MCNULTY
Photo: Indian River County Circuit Judge Dan Vaughn conducts proceedings with inmates via Zoom during the first day of the reopening of the courthouse.

As the County Courthouse reopened for legal proceedings this week, the greatest concern was how to efficiently get people with court business into the building while still keeping them safe in the midst of the ongoing coronavirus pandemic.
That will pose a challenge on days like next Tuesday, when County Judge David Morgan has 187 cases on his docket and Judge Menz has scheduled 19 cases in Veterans Court in the morning and 123 cases in Mental Health Court in the afternoon – 329 cases in all, many with multiple people present for the hearing.
"We're going to have a number of people trying to get in at one time, and some days that number is going to be quite large, so there are going to be lines," County Clerk of Court Jeff Smith said.
"The deputies will do their best to move people along, but there's a long screening process you'll be required to go through to get in," he added. "We're going to have wait times. Anyone coming to the courthouse should allow for a delay at the door."
Smith said his courthouse staff has begun its workday earlier to ease some of the entry traffic. Prosecutors, defense attorneys and judicial assistants also are expected to arrive early for hearings.
Still, Smith said deputies would be prepared to arrange lines along the north and south walkways outside the courthouse and keep people 6 feet apart as they wait to enter the building.
"We're taking every precaution," he said.
Reopening protocols ordered two weeks ago by 19th Circuit Chief Judge Lawrence Mirman require that everyone entering the courthouse have their temperature taken in a non-intrusive manner. Those with temperatures over 100.4 degrees Fahrenheit will not be allowed in.
Visitors will be required to fill out questionnaires seeking information about their health, travel histories and possible virus-related contacts.
Mirman's order also mandates that facemasks be worn at all times in the courthouse. If visitors fail to bring one, disposable masks will be provided, though Smith said "they're not in plentiful supply, so we urge people to bring their own."
Smith said hand sanitizing stations have been placed throughout the courthouse, and visitors will notice social-distancing markings on floors in the hallways outside courtrooms. In addition, deputies are patrolling the concourses to enforce social-distancing requirements.
Sheriff's Maj. Eric Flowers said 11 additional deputies have been assigned to the courthouse, where they will also assist with the screening process.
Morgan, the lone judge on the workgroup Mirman created to develop protocols for reopening the courthouses in the four-county circuit that includes Indian River, said in most cases inmates will not be transported from the jail in an effort to reduce the spread of the virus.
Their hearings will be done via videoconference unless it's essential that the inmate appear in court in person.
Courthouses in Florida have been closed since mid-March.
While Monday was expected to be a relatively light day for hearings, County Court Judge Nicole Menz was scheduled to preside over as many as 60 arraignments Tuesday. Morgan said the number of arraignments he and Menz handle will soar to 200 each on a single day in the coming weeks as they confront suspects arrested throughout March and April on misdemeanor charges.
Circuit Judge Dan Vaughn, who presides over felony cases in this county, was scheduled to handle 32 violation-of-probation hearings Monday, but 27 of them were to be done remotely via videoconference with inmates in jail here or in other jurisdictions. Only five were required to be in the courtroom.
But Vaughn's docket was packed with 152 cases Wednesday morning and 158 in the afternoon, which means the courthouse was expected to be crowded.
The State Attorney's Office and Public Defender's Office agreed to continue most of the hearings scheduled for Tuesday, Vaughn said, and those cases have been rescheduled for July 14 – when, as of last week, his docket had 180 cases in the morning and 176 in the afternoon.
"We're backed up," Vaughn said. "People have been getting arrested the whole time the courthouses were closed, so we've got all these pending cases. And we're going to get more because, in some cases, people haven't been arrested yet.
"Some warrants haven't been served yet because law enforcement doesn't want to increase the jail population during a pandemic, which is understandable," he added. "So, there's going to be a tidal wave of cases coming.
"It might be chaotic for a while."
Rather than make arrests that would increase the jail population, Flowers said deputies have been issuing more notices-to-appear for lesser crimes, such as shoplifting.
"We were up to about 530 inmates, but we got it down 465," Flowers said. "Now it's back up to about 490, but that's because the stay-at-home order has been lifted here and there are more people out doing stuff."
Vaughn said he is limiting the number of people allowed in his courtroom and will "cycle them through" while others wait in the hallway. Members of the news media will be permitted to sit in the courtroom.
Morgan said the size and layout of the courthouse here is better-suited to meet social-distancing requirements than those in St. Lucie and Martin counties.
"Fortunately, we have wide concourses, which provide more room for people to spread out," Morgan said. "We're also not going to be using all of our courtrooms, so we have the ability to move around to different parts of the courthouse and not have everyone bunched up in the same area.
"But it's still going to be a challenge," he added.