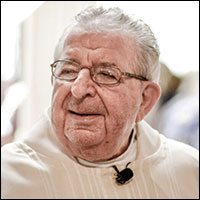 Father Richard Murphy dead at 80
STORY BY NICK SAMUEL

Father Richard Murphy, longtime pastor of Holy Cross Catholic Church, died Sunday at Hospice House.  He was 80.
Murphy was the pastor of Holy Cross for nearly 23 years, the church's parish administrator Debbie True said.
"I will miss everything about him. He was such a fantastic leader," said True, who worked with Murphy. "He cared about the parishioners and they cared about him. He believed we needed to reach out to people in the community whenever there was a need."
True, who later became Murphy's caregiver, said Murphy was battling a chronic illness. His death was not related to the coronavirus, True confirmed.
"He really cared about Vero Beach," True said. "He was a private person who didn't like accolades or awards. He did stuff from the heart."
Murphy, born in Ireland, was ordained as a priest in 1965 at St. Peter's Seminary in Wexford. He then relocated to south Florida, where he served in parishes in Miami, Pompano Beach, Lake Worth, Boca Raton, Stuart and Vero Beach.
Church officials said a funeral service for Murphy will be held at Holy Cross when coronavirus concerns and restrictions ease.
Those who want to make donations in Murphy's memory can contact the Arc of Indian River County at 772-562-6854.