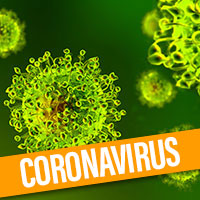 For a magic moment, Vero still sits in coronavirus-free 'bubble'
STORY BY LISA ZAHNER

Vero Beach often seems isolated from a lot of bad things that plague other parts of Florida, and for now at least, our community appears to sit in a relatively disease-free "bubble" away from active outbreaks of the Novel Coronavirus.
As of Monday night, Indian River County had zero confirmed cases, and neither did the county's neighbor to the south,  St. Lucie County. Brevard County to the north this week reported one.
While the Centers for Disease Control and Prevention has urged all Americans to avoid groups of more than 10 people, stay out of restaurants and bars, and cancel all unnecessary travel anywhere, Vero locals were still dining out, going to the gym, to the library, shopping and getting their cars detailed.
All city and county offices were open for business early this week including walk-up utility payments, and license tag renewals, as was the courthouse except for jury trials. Stores, restaurants, post offices and banks were open, though banking customers were being steered toward drive-up services.
School kids are on an early and extended two-week spring break, and most camps and organized group activities have been canceled. But nothing is keeping young families and teens from congregating in parks, beaches and shopping malls.
Quite a few large events were canceled to avoid too much togetherness – the Indian River Firefighters Fair and Under the Oaks being the biggest ones to fall victim to what some are still dismissively calling the "Corona-Scare" or the "Corona Flu," despite nearly 5,000 cases in the United States and nearly 200,000 reported cases and more than 7,000 reported deaths worldwide.
Florida Agency for Health Care Administration Secretary Mary Mayhew urged state residents – especially seniors and those with chronic health conditions – not to underestimate the danger of this new virus to which no one has immunity.
"The eye of this storm is disproportionately focused on our most vulnerable," Mayhew said, outlining new protections and visitor restrictions on nursing homes and assisted-living facilities.
In general, public health officials across every level of government recommend people live like COVID-19 is already active in their communities.
But the seeming disconnect between the urgency of tight restrictions, business closures, curfews and even lockdowns in some locales and the "business as usual" attitude locally could simply be because COVID-19 had not arrived in Indian River County – not officially anyway.
"If you look at the state of Florida, this is not uniform in terms of where it's percolating," Gov. Ron DeSantis said in a Monday afternoon press conference. "The whole state is just not ready for major wholesale restrictions, especially on businesses.
"At the end of the day, you've gotta have everyone on the same sheet of music to make this stuff work," DeSantis said. "We can succeed at social distancing up to the point where the public has had enough of it."
In the meantime, to help out those areas like Broward County that are already running into trouble, the state has hired an additional 100 epidemiologists, and DeSantis said there are plenty of ventilators and protective equipment on the way.
He said people who need to get tested will soon have a multitude of options, including private commercial labs, drive-through testing stations at retail locations, and parking lot testing centers.
Meanwhile, Dr. Deborah Birx of President Donald Trump's Coronavirus Task Force explained that the measures recommended by the CDC will help communities like Vero Beach avoid scary situations down the road.
"If everybody in America does what we're recommending for the next 15 days, we won't have to worry about the ventilators," Birx said.