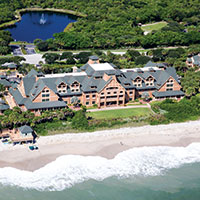 Island's private clubs cutting back as precaution
STORY BY RAY MCNULTY
Photo: Disney's Vero Beach Resort, first of the island's major hotels to announce it is temporarily closing because of coronavirus.

Even though the Vero barrier island started the week as one of the increasingly few places in Florida not yet hit by the coronavirus, most of the island's private clubs took the precautionary step of shutting down their dine-in facilities, closing clubhouses and fitness centers, and severely cutting back on the golf, tennis and beach-club operations.
And in a blow to the island economy, Disney's Vero Beach Resort – one of the three major resort hotels in 32963 – announced that it would be closing its doors to guests at 5 p.m. Friday in an effort to prevent the spread of the coronavirus.
"This is happening at a really bad time," Orchid Island Golf & Beach Club General Manager Rob Tench said, referring to the pandemic hitting during the heart of the busy season. "We're doing what needs to be done to keep our members and employees safe, but the clubs are losing a lot of bookings, a lot of revenue.
"When you look at the financial impact of this thing, it's going to cost clubs hundreds of thousands of dollars."
Not only are banquets, luncheons and other on-site events being canceled, but, with most club amenities now limited to members only – for example, guests may not play golf during these restrictions – it's unlikely the children and grandchildren of seasonal residents will opt to spend their spring breaks here.
Multiple sources at John's Island said the club, which attracts visitors from around the world, is "discouraging" members from bringing in guests until this emergency passes to limit potential exposure.
In addition, at least two GMs said they've seen some seasonal residents cut short their stays.
"We're in uncharted waters, so we're taking this week by week," Windsor GM Bob Gallagher said. "We're not going to take any chances. This is one season, one spring break. There will be others."
As of Monday, Orchid Island had joined Windsor and John's Island in closing its dine-in facilities. The clubs' kitchens remain open and meals are still available, but only on a carry-out basis.
Quail Valley, meanwhile, was still offering dine-in service last weekend, though GM Kevin Given said Monday the situation was constantly being evaluated. The club's golf course and tennis complex were still open and operating.
"Any info we give to you today could change in an hour," he wrote in a text message, "so it's probably not relevant."
Likewise, Riomar Country Club's financial and communications manager, Joan Stearns, said she would not comment of the virus-related precautions being taken there.
At the Moorings, the clubhouse and dining rooms remain open on a limited basis, according to Marsha Sherry, broker at The Moorings Realty Sales Co. and a community resident. All events, tournaments and golf and tennis clinics have been canceled and only members are allowed in the clubhouse.
As of Monday, the clubhouse restaurants were open with modified service but the club is encouraging members to order take-out food and has expanded the takeout menu. The golf courses and racquet center are still open for member play, but no valet parking is available.
Sherry said that a few people who had reserved rental properties have canceled, but that many seasonal renters already in residence at the Moorings intend to extend their stays rather than returning to New York or other areas where the virus has caused more disruption.
As for John's Island, Orchid Island and Windsor: As of Monday, members still were able to play golf, but each player was required to ride alone in their cart. The pro shops, if open at all, were staffed by a single attendant. All instruction had been suspended.
Similarly, the tennis courts were available at Windsor and Orchid Island, but all organized activities had been suspended and teaching pros were not giving lessons.
At John's Island, though, the entire tennis complex was closed and the nets were taken down.