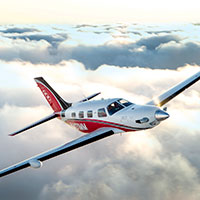 Piper Aircraft: No business interruptions thus far because of coronavirus in China
STORY BY RAY MCNULTY

Piper Aircraft withdrew from the Singapore Airshow 2020 last month because of the health threat posed by the COVID-19 coronavirus, but the pandemic spawned in China has not yet impacted operations at the company's Vero Beach manufacturing complex.
"We sell our products to a worldwide market, so there's no doubt we're watching this thing, especially as it expands beyond China's borders, because we need to be ready to respond accordingly," said Jackie Carlon, Piper's marketing and communications director. "But as of right now, it's not having any effect on our operations here.
"We haven't had any business interruptions because of the virus."
While Piper has existing contracts with Chinese buyers – most of those agreements are to supply trainer airplanes to flight schools – no new deliveries are scheduled until late August and early September, so there's no need for company employees to travel there.
In fact, Carlon said most of Piper's China-bound products are disassembled, placed in containers and transported to their destination, where the planes are then reassembled. Also, the company has a China-based dealer that handles much of its business there.
"They're Chinese nationals and they attend the events in China, so it's not necessary for us to be there on a day-to-day basis," Carlon said. "We do have an employee here who oversees those operations, but he's not going over there until things are far more stable.
"In addition," she added, "so much of our business can now be done virtually, using different technologies, we don't need to be there."
It was mere coincidence, Carlon said, that Piper's contracts and production schedule for China-bound aircraft call for late-summer, early autumn deliveries.
"There are specific times of year when we have airplanes go to China, and there's nothing scheduled to go in that direction until August-September," she said. "Right now, we're working on our U.S. sales. That's just how the schedule worked out.
"We got lucky."
Singapore didn't.
The nation's Ministry of Health responded to COVID-19's threat to the biennial air show and trade exhibit, which was held Feb. 11-16, by ordering enhanced cleaning and refuse management, providing hand sanitizers for attendees, and deploying a team of doctors and medics to perform mandatory body-temperature screenings at all entrances to the Singapore Expo and Exhibition Center as well as to treat visitors who felt ill.
Piper's management, however, decided to take no chances.
"The virus was spreading and there were a number of companies that had already canceled," Carlon said. "We looked at a couple of things – the level of risk for our employees and whether we'd get a return on our investment because of the lack of participation – and decided to pull back.
"That's the most significant impact the virus has had on us, so far."