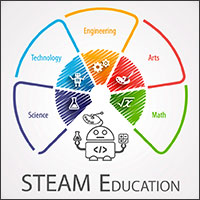 School of choice initiative is moving full STEAM ahead
STORY BY FEDERICO MARTINEZ

Beachland Elementary is branding itself as a Science, Technology, Engineering, Art and Mathematics School of Enrichment, principal Rachel Finnegan told the County School Board last week.
At Beachland, students "will develop their skills through robotics, arts, engineering and hands-on learning experiences using the hydroponic garden, outdoor classroom experiences, and partnerships with Vero Beach Museum of Art and Riverside Theatre," she said.
The move comes as part of Superintendent David Moore's ambitious school of choice initiative, which was set to debut at a large public event last weekend.
That event, intended to promote schools of choice in the district and showcase new and innovative curriculum, was canceled due to concerns about the spread of the coronavirus.
But Moore is encouraging residents to visit the district's website to learn about application procedures and deadlines for the 2020-21 school year. Parents can also fill out online applications to send their children to the school of their choice.
The school of choice event was expected to attract thousands of residents to the Intergenerational Recreation Center this past Saturday. Principals and teaching staff from every school in the district planned to work booths and make presentations to highlight new programs they will offer next year.
The event was a result of a challenge Moore issued to schools in January to develop new, and in some cases, specialized curriculum that would help them compete for new students.
In addition to enhanced STEAM curriculum at Beachland, Dodgertown and Glendale elementary schools, a range of other new programs will be available for interested students.
Fellsmere Elementary, which has a large Hispanic student population, is billing itself as "A Dual Language School." Students will be taught to read, write and speak in English and Spanish, and learning about Hispanic culture will be part of the curriculum, according to Principal Ramon Echeverria.
Pelican Island is branding itself as a "School of Environmental Science" where K-5 students "will become advocates" for the environment by participating in various activities including recycling and composting and managing on-site greenhouses.
Oslo Middle School, which has adopted the new slogan "Design Thinking School," will specialize in digital design, creative photography and information technology, while Sebastian Elementary will focus on theatre and fine arts.
Citrus Elementary will focus on community outreach by partnering with organizations such as Harbor Branch, Vero Beach Museum of Art and the Audubon Society, Hope for Families and animal shelters to learn about solving community problems.
Other schools offer additional focused curriculum.
Moore said the district would like to reschedule the school of choice event, but it may not be possible due to the uncertainty of how long schools will remain closed.
Parents can go to the school district website to apply to enroll their children in schools with new programs. At the website, click on "departments," then "student enrollment," then "public school choice."
The deadline for submitting school of choice applications is April 15.
Presentations by principals about new curriculum at their schools can be seen at this link, with presentations starting 50 minutes into the video: https://youtube/8TVvmMjBaN4.