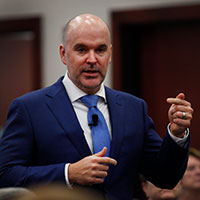 School superintendent apologizes after losing temper at meeting
STORY BY FEDERICO MARTINEZ
Photo of Superintendent David Moore.

Superintendent David Moore has moved quickly to put a controversy behind him, publicly apologizing for a heated exchange with black leaders when they pressed him for details about the district's African American Achievement Plan during a recent meeting.
Moore lost his temper and argued with residents for about 20 minutes at the Indian River County School District meeting at Gifford Youth Achievement Center on March 2.
"I'm ready to get to work, let's get to work," an agitated Moore said, as he loudly talked over residents trying to ask questions about the plan. "I'm tired of talking. We've talked about the issues enough. The time for talking is over. The time for implementation is now."
Instead of ending the discussion, his curt response fanned the flames of discontent among the two-dozen people in attendance.
Before Moore's outburst, some at the meeting were already grumbling out loud about the meeting.
The presentation was initially conducted by Brian McManus, a data analyst for the district. But Moore took over about midway through the 75-minute presentation as the audience's discontent became apparent.
"I haven't seen any data tonight [related to the African American Achievement Plan]," said Merchon Green, chairwoman of the districts Equity Committee told Moore.
"People here feel like they are getting a tutorial and feel like they are wasting their time."
Others in attendance began expressing similar sentiments.
Moore continued to argue with residents, until Margaret Ingram, a retired Beachland Elementary teacher, publicly chastised him and urged him to apologize.
"I also was expecting data tonight," Ingram told Moore. "I think you owe us an apology. Just say, 'We got it wrong.'"
When Moore tried to defend the presentation, Ingram interrupted him again and sternly told him, "Just apologize and say, 'We got it wrong.'"
After a moment of silence, Moore looked out at the audience and said, "We got it wrong."
His apology prompted laughter from the superintendent and the audience, which showered him with a chorus of thank-yous and applause.