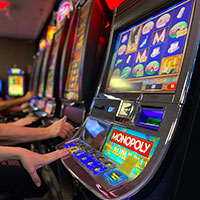 Seminoles weigh suits to shut down illegal slots here
STORY BY NICOLE RODRIGUEZ

It will be game over for gambling arcades blatantly breaking state law in Indian River County if the Seminole Tribe of Florida gets its way, a lawyer for the tribe said after learning about the illegal businesses from a Vero Beach 32963 investigation.
The tribe's outside legal counsel Barry Richard was surprised to find out that several of the county's roughly 18 adult arcades are violating state laws prohibiting cash payouts and slot-style machines – which the tribe has exclusive rights to operate.
At least five adult arcades in the county are mini Sin Cities with glitzy slots, ATMs on site and hefty cash payouts, sometimes as high as $6,000, Vero Beach 32963 found.
The tribe, which operates seven casinos in the southern part of Florida including the huge Hard Rock casinos in Hollywood and Tampa, is considering taking legal action against the illicit arcades in Indian River County, the tribe's Tallahassee-based lawyer said.
"The tribe hasn't made a decision yet as to what to do or where, but it's an issue that we're going to take up," Richard said, adding "these people are just blatantly violating Florida law and nobody should be able to violate the law with impunity."
Arcades in Jacksonville were closed after the tribe took legal action. Now Indian River County is on the tribe's radar.
The Seminole Tribe went after illegal adult arcades in Jacksonville in 2017, suing the city and more than two dozen arcade owners, along with landlords who knowingly leased space to the illegal fronts, asking a judge to shut down the operations.
The lawsuit became moot last year when the Jacksonville City Council enacted a law to shut down an estimated 200 adult arcades in the city, citing high crime at the establishments.
The Seminoles have paid more than $1 billion to Florida for the exclusive rights to conduct casino gambling in the state, according to the complaint filed in Jacksonville.
The tribe – which reaps $2.2 billion in annual gambling revenues, according to Forbes – is currently negotiating a new revenue sharing compact with the state that could generate upwards of $700 million a year for state coffers. An agreement with the state was originally inked in 2010, giving the tribe exclusive rights to operate slot machines and banked card games in exchange for a share of gambling revenue.
As part of a 2013 agreement with the tribe, the Florida Legislature passed a law clearly prohibiting adult arcades from operating slot machines or other games of chance and paying winners in cash or expensive prizes. Under the law, adult arcades are only allowed to operate games of skill and can only give out non-cash prizes valued at no more than $6.
But Vero Beach 32963 found numerous arcades in Indian River County operating illegal games of chance, including slot machines similar in appearance to those found in casinos, and openly offering and paying out large cash prizes, which multiple sources said sometimes amount to thousands of dollars.
At five arcades visited by two reporters, multiple players reported winning cash prizes on gaming machines, employees admitted paying out cash prizes, and in some cases, signs were posted inside and even outside in front of arcades promising cash prizes up to $5,000.
"It shouldn't be the tribe that has to enforce the law," Richard said. "They would prefer to see it done properly by law enforcement authorities."
Indian River County Sheriff Deryl Loar has in the past declined to crackdown on illegal gambling in arcades that attract predominantly an elderly crowd, saying the establishments rarely pose a danger to the public.
Records of calls for service provided by the Sheriff's Office for the past year show most calls to arcades are for area checks and the occasional triggered alarm, but a suspicious person and a complaint of criminal mischief were also called in, records show, and Vero Beach Arcade, 832 South U.S. 1, was robbed on Jan. 20 by a man armed with a tire iron who made out with an undisclosed amount of money.
Loar last month told Vero Beach 32963 he and the State Attorney's Office "continue to monitor the activities in the arcades and their compliance with state law."
It was unclear what he meant by "monitor" since illegal activity is taking place openly at several arcades.
Assistant State Attorney Chris Taylor said if Loar brings the office evidence of illegal gambling, prosecutors would consider trying it.
"We would evaluate their evidence just like any other case," Taylor said.