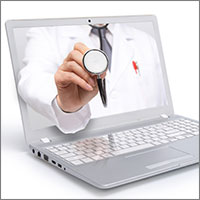 Set up telehealth account now! You may need it later
STORY BY MICHELLE GENZ

With experts urging people to use telemedicine to be evaluated if they have early symptoms during the COVID-19 pandemic, one productive way to pass some time while staying home is to set up a telehealth account while you're feeling well.
Virtual visits are available through the websites of many insurance providers, including Aetna, United Healthcare and Florida Blue. Telehealth is also available through the CVS website, available 24/7 for $59. There was only a 20-minute wait on the site Monday, but patients need to set up an account, which takes some time and might be best done when people are clear-headed and symptom-free.
Cleveland Clinic also has a 24/7 telehealth initiative, Express Care Online. "They've really ramped up the staffing for that service," said spokeswoman Angela Dickens.
Setting up an account for any telehealth service can involve downloading an app on a smartphone or other mobile device. Information about insurance and medical history may be required. Typically, sign-up takes about 10 to 20 minutes. The patient can then make an appointment for a visit or wait on the spot for one to open up – a sampling earlier this week showed online waits between 10 and 20 minutes.
When a patient with flu-like symptoms dials into the virtual visit from a computer or other device, a doctor will appear on the screen to walk the patient through a list of questions to try to rule out flu or allergies, and determine if the patient needs a higher level of care. But that's just a first step – healthcare workers are not able to definitively diagnose or treat covid-19 disease via video link.
If covid-19 is suspected, according to Dickens, the patient would be directed to call their primary care physician or the Health Department of Indian River County, which directs callers to its epidemiology department. Driving straight to any clinic or hospital is not recommended without prior notification enabling medical personnel to gear up for your arrival.
Whether a patient is then directed to get a test is up to the health practitioner. As of Monday, the CDC guidelines for testing no longer required travel or exposure to an infected person as a criterion for testing.
If the doctor believes the patient should be tested, a foray into the outside world will almost certainly be required. In Indian River County, besides the epidemiology department at the Health Department in the county's administration complex, drive-through testing should be available soon in the parking lots of Wal-Marts in Vero and Sebastian, as announced last weekend.  And Cleveland Clinic Indian River is planning to offer drive-through testing soon, as it already does in Martin County.
In the meantime, Cleveland Clinic Indian River Hospital has borrowed the VNA's mobile unit and parked it near the entrance to the ER. That way, they can triage patients worried that they might have the coronavirus, swabbing them in the mobile unit without potentially contaminating surfaces inside the main building.
Dickens said as of last weekend, only a handful of people – increasingly referred to as the "worried well" – had shown up at the ER asking to be tested. She hopes it stays that way.
"The last thing we want is for a big group of people to be standing around waiting to be assessed," she says. The mobile unit is for patients who "have seen a doctor through a virtual visit or primary care, and they've directed you to do something different."
In some cases, certain COVID-19 symptoms do require immediate medical attention.
The CDC has recently added a warning on its website for "emergency warning signs" including difficulty breathing or shortness of breath, persistent pain or pressure in the chest, lips turning blue, confusion that is new or an inability to arouse.
As for paying for the virtual visits, most commercial insurance plans cover them now, and some have even waived copays during the COVID-19 crisis.
Medicare, though, has been slow to get on board with telehealth.
The COVID-19 appropriations bill passed by the House of Representatives last week gave the Health and Human Services secretary the ability to waive certain Medicare rules on telehealth reimbursement that essentially limit telehealth to rural patients, and require the patient to "originate" the visit in a hospital or doctor's office, and not at home. The bill at press time still had to be approved by the Senate and signed into law
While those barriers are being lifted by congressional action, Medicare still requires that the virtual visit doctor, or a doctor in the same practice, have treated the patient in the past three years. That kind of telemedicine is rare in the Vero area.
Beginning this year, Medicare Advantage plans typically cover more telehealth services than original Medicare, including allowing visits from home – where possible covid-19 patients need to stay if they can, to avoid spreading the infection.
And while you're stocking up on supplies for COVID-19 cocooning, don't forget to buy a thermometer.
Your virtual doc can't take your temperature and fever is the most common symptom caused by the new coronavirus, along with cough, shortness of breath, sore throat, and muscle ache. Some have stomachache and diarrhea a day before the fever begins.