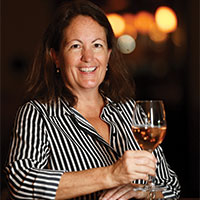 Blue Star Brasserie first fine dining restaurant to close
STORY BY STEPHANIE LABAFF
Photo: Owner of the Blue Star restaurant, Kitty Wagner is closing up at the end of this week.

The Blue Star Brasserie will be serving dinner for the last time this Saturday, May 30, Chef-Owner Kitty Wagner announced in an email sent to frequent customers.
The closure is taking place amid a nationwide crisis for restaurants trying to survive the financial impact of COVID-19 shutdowns, but Wagner says that is not the main reason she is pulling the plug on her popular dining spot. Instead, the driving force is a desire for change and something new.
"I've been overwhelmed by the response from customers since the announcement," said Wagner, who began to receive a constant stream of emails, texts and phone calls minutes after the announcement went out.
"I've actually had a hard time getting prepped at the restaurant because my phone keeps ringing."
Assuming the closure was a result of the two-month shutdown, offers of assistance from patrons and fellow chefs poured in, warming Wagner's heart.
In fact, what the pandemic did for Wagner was to create a sense of clarity.
"I'm 53, and now that I've had two months off, unintentionally, I had time to think. What do I want to do with the second half of the time I have?'"
She said she has been contemplating shuttering the restaurant for a while, well before the setbacks caused by COVID-19.
That was just the icing on the cake. "It just seems like a good time to be doing this because obviously there hasn't been any business for a while, and there's a lot of uncertainty about what's going to transpire in the future."
With government limitations on restaurant capacity and the question of whether people feel comfortable eating out, Wagner doubted the logic of dipping into her reserves to keep things going. "It could take a year or two to recoup the losses, and in that year or two, something worse could happen."
A second coronavirus wave and hurricanes are on Wagner's list of concerns. "We live in a hurricane zone. I fully expect we'll have a big hurricane in September."
Wagner first came to Vero Beach as a sous chef at the Windsor Club. Then, after serving as the executive chef at the Boca Bay Pass Club in Boca Grande, she returned to Vero Beach and opened the Blue Starfish in 2003, followed by The Undertow, Blue Star Wine Bar, Blue Star Bourbon Bar and Southern Kitchen, and finally the Blue Star Brasserie.
As she traversed back and forth across the bridge with each new iteration, she continued to provide a unique dining experience and built a following enticed by her inspired bistro-style fare.
Already missing her Port Poached Pear and Cambazola Salad, Blue Star Chicken Liver Pate or the 14 Hour Braised Venison Osso Bucco? Not to worry.
After spending some time with her parents in Ohio and doing a bit of traveling to get rid of the case of cabin fever she developed during two months of abiding by the safer-at-home mandate, Wagner said she will be back.
In a bittersweet goodbye, Wagner said she hoped her patrons and staff, "can just hang on while I get this worked out of my system.
"I only know how to do one thing – cook in a restaurant that I own," Wagner said.
"Since I don't have any other workable skills, the odds are that I might do something before too long."