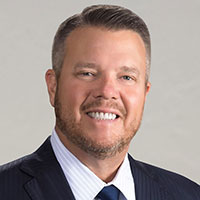 Council member apologizes for attack on Vero airport director
STORY BY RAY MCNULTY
Photo of Vero Beach Councilman Joe Graves.

Two months after publicly criticizing longtime Vero Beach Airport Director Eric Menger for an inconsequential administrative error and calling for his firing, City Councilman Joe Graves has apologized.
In a May 7 email to Menger, who announced his retirement shortly after the verbal assault, Graves wrote: "Please accept my apology for publicly calling for your termination. I did not handle the situation properly.
"Also, please accept my thanks for your many years of service to our great city," he added. "I hope you enjoy your retirement."
Menger replied the next day with an email in which he accepted Graves' apology, acknowledged the challenges of serving on the City Council and offered leadership advice based on his 24 years managing the airport.
Menger also suggested Graves, a rookie council member, trust the "talented group of professionals" running the city's day-to-day operations.
"As a public servant, your position comes with great responsibility," Menger wrote in a three-paragraph email. "I admire all elected officials for taking on that responsibility when it is often a thankless job.
"While I was indeed shocked by your actions and words at a public meeting, I recognize the steep learning curve necessary to comprehend all facets of the city, especially the very dynamic nature of the airport," he continued. "Leadership demands the trust and support of your team."
He closed with: "Apology accepted, and past actions forgiven."
Graves' harsh attack came during the City Council's March 17 meeting, when he accused Menger of breaking the law and asking that City Manager Monte Falls fire the highly regarded airport director after decades of stellar service.
Graves lambasted Menger for failing to get a second approval from the City Council before spending $152,000 for sod as part of a $3.3 million taxiway project that the council previously had approved in total – a project that came in more than $1 million under budget.
Menger accepted full responsibility for the error and said he was working with Falls and City Finance Director Cindy Lawson to implement further grant-administration training to prevent any future problems.
But Graves refused to let it go, instead rambling on about Menger playing "fast and loose with the rules" and his own "lost confidence" in the airport director.
"That was a bit of a shock," Menger said afterward. "We're all human. People make mistakes. I really wish he had come and talked to me."
Ten days after the flare-up, Menger, 61, announced he would retire on June 26. He said he had been planning to retire for months and that Graves' criticism did not impact his decision.