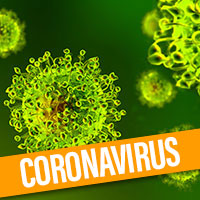 Infection number sounds good, but more tests needed
STORY BY LISA ZAHNER

With businesses and local governments chomping at the bit to accelerate the reopening of the local economy, increased testing for the virus and down the road for the antibody would seem a top priority.
After all, how would you know if Monday's good news – that only one person had tested positive for COVID-19 in Indian River County in the previous six days – was a sign that the pandemic is abating here unless you knew what percentage of the  county's 160,000 residents had been tested.
Well, would you believe that as of Monday afternoon, a pathetic average of 53 people a day had been tested over the past two weeks by all of the public facilities, hospitals, clinics and private labs in Indian River County? 
And the Indian River County Health Department said that of that total, it had tested a grand total of 29 people in May.
How do government and health officials make intelligent decisions about reopening the economy based on such scant information?
The low number of county residents tested for COVID-19 almost certainly is a factor in Indian River having had only 100 test positive since the start of the pandemic.
And what do we make then of Indian River County Health Department spokesperson Stacy Brock saying public health officials are now tasked with testing 2 percent of the county population – slightly more than 3,000 people – during the month of May?
Anyone tested at any facility will be tallied to achieve that 2 percent goal, but if only 53 people per day were tested in the first two weeks of May, nearly 2,200 people will need to be tested in the second half of May to meet the goal.
Cleveland Clinic Indian River hospital declined to disclose how many tests it has performed so far in May, or how many people the hospital can test per day at its drive-through testing facility. As to the Health Department's testing capacity, Brock said only, "The Health Department is prepared to meet current and any potential demands for testing to ensure that anyone who needs a test, gets a test."
No official we asked was able to tell us if there is a testing strategy, but testing the people most at risk – healthcare workers, staffers in nursing homes and assisted living facilities, and those in medical offices – might be a good place to start because there are more than 8,000 of these in Indian River County county.
As of 2019, 2,794 people in Indian River County worked in hospitals and urgent-care or walk-in clinics. Another 1,905 people worked in long-term-care facilities, and 3,746 people worked in other medical offices and facilities.
While we know the percentage of those people who have been tested is relatively small, we have no idea what the number is because it's not tracked.
"Testing policies are set by each employer," Brock said. "The Health Department does not report this information."
Scott Samples, senior communications director for Cleveland Clinic Indian River, would not disclose how many of the hospital's employees had been tested.
"Decisions to proactively test healthcare providers are made by each organization, dependent on their individual needs," Samples said. "We currently test caregivers who have signs or symptoms of COVID-19, or who may have been in contact with a COVID-positive individual. To maintain the privacy of caregivers, the number tested and results are not publicly reported."
The good news is that Cleveland Clinic has all the latest rapid-testing capabilities. "We use both Cepheid and Abbott Labs rapid testing for specific purposes, including for inpatients being admitted and discharged, caregivers or first responders with symptoms," Samples said.  " We continue to be judicious with this resource."
First responders such as firefighters and paramedics, uniformed law enforcement officers and corrections officers would be another group who have a greater than average risk of exposure.
Indian River County Emergency Services Director and Fire Chief Tad Stone did not provide the number of his approximately 250 front-line employees who have been tested. County Administrator Jason Brown, the man in charge during a declared emergency, would not provide any numbers either, and would not outline any testing strategy.
The Sheriff's Office was the only county agency to respond substantively to questions, with Undersheriff Jim Harpring saying that out of the 310 Sheriff's Office sworn employees, four had been tested.
Looking forward, Harpring said the Sheriff's Office is interested in finding out how many of its employees have already had the virus. "It would seem like the antibody testing would be the most logical route for wide-scale testing; assuming the tests are valid and assuming that having a positive antibody test means you have some level of immunity," Harpring said.
Brock said people can be tested for the antibody at Quest and LabCorp, but not at the county's largest hospital.
"Currently, Cleveland Clinic is not doing antibody testing," spokesman Samples said. "While antibody testing is important, particularly in the absence of a vaccine, at this time, the tests we have seen are not accurate enough for widespread use.
"The CDC and many companies are working on antibody tests, and we believe in the future there will be an accurate test available," he added.
But even if the antibody tests were widely available and thousands of people took the test and found out they were immune, the public would never know it, and local leaders could not use that information as part of decision making.
Why?  "This information is not tracked at this time by the Health Department,"  Brock said.
So going forward, county officials and public health officials are making recommendations for the reopening of the county's economy based upon scant testing, or on data that is unknown, not reported or not tracked.
Other areas of Florida, including neighboring Brevard County, have cast a wider net by offering free testing to asymptomatic residents in order to base reopening decisions on robust testing and hard data.
Brevard on Tuesday opened a drive-through facility "for individuals over the age of 18, regardless of symptoms."
But in Indian River County, with a few exceptions, people must still have symptoms to be tested, so decisions are being made based upon the hope that only 100 people here have ever been infected.