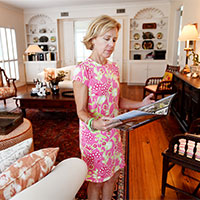 Local real estate market comes roaring back from slowdown
STORY BY STEVEN M. THOMAS
Photo: Sally Daley of Daley & Company Real Estate in a home that she listed and sold during the days of COVID-19.

Real estate activity here has come roaring back from a brief COVID-19 lull, the upsurge driven in part by buyers from large, densely-populated cities where the pandemic has been widespread looking to small towns like Vero Beach, according to brokers and developers.
Redfin, a nationwide real estate firm, reports that "Americans are shopping for homes in small towns – those with populations of less than 50,000 – at an exceptionally higher rate than they were last year," with pageviews of its listings surging "105 percent, year over year, during the seven-day period that ended May 1."
"The phone started ringing at the beginning of the month, and it hasn't stopped," says Premier Estate Properties broker associate Cindy O'Dare, who recently put an oceanfront home under contract, sight unseen, to a buyer who wants out of the big city where they live. "My partner Richard Boga and I are very busy."
"Our island office is busy, and our downtown office is even busier," says Dale Sorensen Real Estate broker/owner Matilde Sorensen. "We are getting a lot people from New York City, New Jersey, Boston and Chicago, along with people from Orlando and South Florida. Many people from up north are fearful for their children, afraid it won't be safe for them to go to school up there."
"We have doubled our inquires since the last week in April," says Marsha Sherry, broker at The Moorings Realty Sales Co., who is seeing "a burst of people" from the same cities mentioned by Sorensen.
"I do think people are watching those COVID-19 numbers and looking for a place where there hasn't been a lot," says Sherry. "And people have now realized that they can work from home and don't have to feel tied to an office in Miami or New York. Going forward, I think companies will be more open to that.
"We have more and more agents from Palm Beach and Fort Lauderdale calling and asking if they can bring their clients up to look at property in The Moorings."
Brokers say the market still isn't as busy as it generally is in mid-May, but up and down the island and on the mainland, new listings are coming on the market at an accelerated pace and many more homes are going under contract and closing than during the uncertain early days of the pandemic shutdown.
"Starting three weeks ago, it was like a faucet turned on," says Sally Daley, broker/owner of Daley and Company Real Estate, who put a home at 302 Harbour Dr. on the island under contract on May 5 and sold it the same day.
"People are reassessing where they want to live," Daley says. "Searches for homes in lower density cities are up astronomically. There has been some hesitancy to sell in the Northeast, in New York and Connecticut, because home prices there have been depressed due to tax changes, but COVID-19 has acted like an accelerant in that market and those people are now pulling the trigger.
"I am seeing increased activity across all price points."
Yane Zana, developer of multiple oceanfront projects in Indian River and Brevard counties, including Blue at 8050 Ocean in Indian River Shores, is riding the same wave as island brokers.
"What is happening in real estate here now is insane," Zana says. "I have put 5 units under contract in five days [in Vero and Melbourne] and seen a tremendous increase in the leads coming in for Blue.
"At the very onset, when states started shutting down and death numbers went up, things iced completely. There was no activity. In the past three weeks though, the activity has been extraordinary. I am getting double or triple the number of inquiries for Blue as I was before COVID-19 came along.
"I think people are taking money out of the stock market to put in real estate. During the first, worst decline, that didn't happen. But when the market came back up and stabilized, people decided to take money out.
"The surge in interest hasn't had time to translate to closings yet, but I think Vero Beach-type oceanfront real estate is only going to get better. People realize they can work mobile and they want to get out of high-density locations."
Also driving the real estate resurgence here is a phenomenon the island has not seen before.  Many snowbirds who normally would have gone back north by now are staying longer and in some cases looking to upgrade from smaller winter homes to larger year-round homes, according to Zana and Matilde Sorensen.
And Vero, with its beautiful seaside location, high-quality housing stock and many recreational and cultural amenities, is uniquely positioned to benefit from the paradigm shift of buyers turning away from big cities and seeking small town homes and lifestyles.
Island brokers are already networked into luxury markets around the country and the world, and they say they are getting an increasing number of calls from buyers' agents in New York, Miami, Chicago and other locations asking what they have available for purchase.
"I think we will have a very busy summer," says O'Dare.