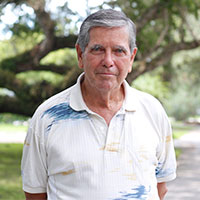 Neville voice of reason on rapid Vero reopening
STORY BY LISA ZAHNER
Photo of Councilman Rey Neville

The City of Vero Beach last week sent a resolution to Gov. Ron DeSantis asking him to expedite the reopening of businesses in the city, after the City Council voted 4-1 in favor of the action.
Councilman Rey Neville, a Central Beach resident, was the lone dissenting vote, and his remarks are worth noting as part of what's been the only robust public debate this month weighing the pros and cons of rapid reopening.
Neville, a retired Air Force Colonel who served 26 years in the military, then as a manufacturing executive and a university professor, is a smart, serious and eloquent guy. He moved to Vero from Connecticut when he was 8 years old, grew up in Central Beach and then traveled wherever the Air Force took him around the world. He chose to retire in Vero Beach for the quality of life.
At 78 years old, Neville embodies not only the barrier island demographic, but also represents the concerns of Vero Beach 32963 readers when it comes to the COVID-19 pandemic. As a widower, he knows sickness and loss in a deep and personal way.
When the issue of reopening went around the table and Neville's turn to speak came, he laid out his argument: "I think this is a pretty complex issue," he said, then pointed out the assertions in the resolution drafted by Councilman Joe Graves did not add up. "Some of the whereas clauses don't form basis of fact on which you would support a conclusion," he said.
Then Neville countered some of the grousing from Graves and Councilman Robbie Brackett about the over-reach of the state's power, and how DeSantis' timeline has been way too slow for Vero.
"I would argue that Gov. DeSantis' step-by-step approach is actually what we need, and that he removed the ban on personal services such as barber shops and the like only a week after starting his Phase One. So, he's observing what's going on and I think he's making decisions, you know, not on monthly benchmarks but on day-by-day circumstances."
Neville said the city is dealing with two distinct constituencies – non-essential businesses, and their customers.
"Restaurants are probably the big issue here. We've only had one week of the 25-percent [capacity]," he said. "This 25 percent has given them the opportunity to learn how to operate under social distancing guidelines. The low-risk opening gives the state the opportunity to evaluate the performance, based on the 25 percent."
If we "jump from 25 percent after only one week, to 50 percent," Neville said, we will never know whether the 25 percent was effective if the county starts to see a resurgence in new positive cases.
"I'm of the opinion that we should stay the course, at least for the second week, which would then reveal the infections if in fact they've occurred. We don't know if they will occur, but it will give us a really decent benchmark to deal with," Neville said.
The next couple of weeks will be telling about whether the county's soft two-week opening kept a lid on the virus or not. As of this Monday the Full Phase One was already in place.
Phase One allows restaurants, retail shops, libraries and museums to operate at 50-percent capacity. Earlier this month DeSantis reopened gyms, fitness centers, barber shops and hairstylists with capacity limitations and enhanced sanitation and social distancing requirements and allowed elective medical procedures to resume.
Everyone hopes there won't be a surge in infections that boomerangs Indian River County or the whole state back into lockdown.
"If we wait and then implement the 50-percent [capacity rule] and infection rates dramatically increase, we know we can go back to the 25 percent rate and with that be fairly confident, perhaps, of having a lower infection rate," Neville said.
"At least we'd have these benchmarks. So, I'm pretty well convinced that the early termination of this, at this time, is premature."
From a customer point of view, Neville said, "I think they feel more confident knowing that the restaurants would be socially distanced and conservative in their initial approach. Twenty-eight percent, practically, of Vero's population is over 65. Thirty-three percent in the county. Indian River County's median age is 50."
The science has borne out that senior citizens are much more likely to have serious complications of COVID-19, sometimes requiring hospitalization or even intensive care and a ventilator. 
"We're dealing with a relatively old, and if you will, compromised clientele going to these establishments, so if we want to bring those customers out, we have to create an environment they are confident in," Neville said. "I frankly think at a 25 percent level, customers are willing to come out and enjoy a meal out. If on the other hand we're at a higher percentage where it seems risky – that I think will keep people from going out and experiencing a restaurant."
Neville said he understands that some small restaurants would find it impractical to operate at a mere 25 percent capacity. 
Nevertheless, he said, "with the age of our demographic, I think a measured, careful, scientific approach is warranted."
Next, Neville took issue with the impetus for Vero's resolution – that Vero was taking a play from Okeechobee's playbook as Okeechobee petitioned the governor to expedite its own re-opening.
"We are not the same as Okeechobee. People who go into Okeechobee stop for gas and have lunch and keep moving," Neville said. "Vero Beach is a destination city."
Neville pointed out that some groups have come to Vero Beach from locked-down parts of the state and not followed social distancing guidelines. "They came here to have a good time because they couldn't do it in Miami-Dade," he said. "So, we need to be aware of that, making us vastly different from the Okeechobee experience."
Next, Neville pointed out the influx of people from northern COVID-19 hot spots, and the lack of enforcement of DeSantis' order requiring 14-day quarantines.
"Elite Air is serving us. I think we disembarked 20-some people on this last flight. The Health Department is not meeting them at the airport, is not briefing them on their responsibilities," he said. "What's happening is they are filling out the forms, they're handing them to the [police] chief or his representative, and they are taking them not to the Health Department which has the responsibility for this, but they're taking them out to the Emergency Operations Center."
We do not know what happens to the forms from that point, Neville said.
"We do not know what they're going to do with those forms and whether there will be follow-up to confirm that these people are actually self-quarantining for the 14 days required by the emergency order," he said.
"So, we've got unknowns out there. That tells me the governor is right on moving this slowly and steadily and measuring performance and seeing what happens county by county ... Each community has its own characteristics and ours is vastly different from Okeechobee."
Mayor Tony Young seemed like he also might vote against the resolution asking to put Vero on a fast-track to being fully open.
Young, who holds a biology degree, began his Army career as a combat medic and rose in rank to colonel, establishing and managing field hospitals, spoke from some relevant experience to the current pandemic.
He emphasized the importance of striking the proper balance between the exercise of civil liberties and the protection of the most vulnerable. "For some of our population, the virus can be perceived as an existential threat, so the duty of our community is to make sure we have precautions to safeguard that," he said.
"Out of an abundance of caution I'm leaning toward let's go slow," Young said, but then said the relatively low case count compared to surrounding counties, and the adequate hospital bed capacity, made him more amenable to the concept of opening up.
By the time a motion was made, Young could easily count to three. When it became crystal clear that the resolution would pass without the mayor's support, Young voted in the affirmative, leaving Neville as the lone dissenter.
That yes vote also positioned Young – not the more radical and ideological Graves – to write the very measured cover letter to DeSantis as a follow-up to the resolution.
Most of the council's resolution became moot last week as Florida went to Full Phase One opening, though the resolution also asks to expedite Phase Two and Phase Three of reopening as soon as the required benchmarks are met locally.
Among other changes, Phase Two would bump restaurants and retail up to 75-percent capacity and allow groups of up to 50 to gather, including at sporting events. Bars would be allowed to open at half capacity and public government meetings could resume with up to 50 people present. Phase Three would bring things almost back to normal, except for continuing to practice social distancing.
The discussion last week at Vero City Hall and a prior discussion two weeks ago, to Vero's credit, have been the only robust debate about a path forward from COVID-19 that has taken place locally in publicly televised and live-streamed meeting.
The Indian River Board of County Commissioners completely ignored the global pandemic in its May meetings. Instead, commissioners get private, individual briefings from county staff, and county officials put on a news conference at 3 p.m. on Fridays. with no public debate.