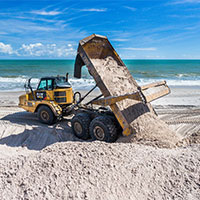 North barrier island beaches slated for fall renourishment
STORY BY LISA ZAHNER

North barrier island beaches are set to get another dose of trucked-in sand this fall as soon as turtle season is over, to replenish shoreline lost when Hurricane Dorian skirted the coast in 2019.
The County Commission on May 12 approved a work order for $41,000 for engineering services needed to begin the project for the area called Sector 3, which extends from Seaview subdivision south to Turtle Trail beach park.
"The Sector 3 project area is a critically eroded 6.6-mile section of shoreline that ... sustained damage from Hurricane Matthew (2016), Irma (2017), and Dorian (2019) creating the need for repair," Public Works Director Rich Szpyrka told commissioners.
This stretch of beach was replenished earlier in a major three-phase project that spanned from 2010 to 2012.
Dune repair projects are funded up-front by various county revenue sources, including the optional penny sales tax and the bed tax. Half or more of the cost is "eligible" for state or federal reimbursement, but it often takes time to see that money returned to county coffers.
In April, commissioners were notified the county would receive an additional $926,000 in reimbursement for the sand project completed last year from Surf Lane in Indian River Shores to Bay Oak Lane in the Riomar neighborhood of Vero Beach. That means $1.7 million of the $4.6 million project has now been covered by the Florida Department of Environmental Protection. Another $1 million is eligible for Federal Emergency Management Agency reimbursement due to erosion from storms that were declared FEMA emergencies.
The earlier Sector 3 project was groundbreaking in that it was the first large-scale engineered beach construction effort to use material from inland sand mines instead of sand dredged up from the seafloor.
The upland mining process was controversial, and not without its pitfalls, delays and cost overruns, but it established a viable and more affordable alternative to counties and cities having to hire dredge-and-pump crews from the Great Lakes area to pump sand from a mile offshore.
FDEP had concerns that the mined sand might drift onto the near-shore hard bottom and harm sea life, so regulators included the possibility that the county might need to construct a $1.8 million mitigation reef to offset this impact. Last week, Szpyrka reported to commissioners that FDEP has now determined that costly mitigation will not be needed.
Looking ahead, it's unknown to what extent the economic impacts from reduced state and local tax revenue due to the coronavirus lockdown will impact future beach replenishment projects.
Beach projects used to be funded through documentary stamp revenue, so dollars available would fluctuate year to year with the real estate market, but over the years that changed to a dedicated funding source.
This year is the first major economic downturn since that change, and it's anticipated that any expenditures deemed non-essential in the coming year will be closely scrutinized, so jockeying for beach sand funding could get even more competitive than it has been in recent years.