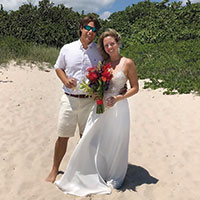 Pandemic shifts a 'dream wedding' to our South Beach
STORY BY GEORGE ANDREASSI
Photo: Dana and Alex Gold were wed in a small ceremony at South Beach Park in Vero Beach.

Dana and Alex Gold dreamed of getting married in the Bahamas on May 1. The worldwide pandemic blocked them from traveling to the islands, but they were wed on May 1 – on the sand at South Beach Park, just three days after beaches here reopened.
"We waited a year and a half to have our dream wedding in the Bahamas," Dana Gold said. "Since it couldn't happen there, we were trying to do anything we could to make it happen" somewhere.
"It just happened to be the perfect day – the weather, the beach, family, everything," Dana Gold said. "It just all fell into place."
While not as complicated as the overseas nuptials trip, the beachside ceremony involved Dana's aunt, Tracy Clifton, becoming an ordained minister online so she could officiate, and her friend, Kelly Olkowski, providing the location.
"We got our marriage license early before the courthouse closed," Dana Gold said. "We just had to make sure we could find a place to get married. My friend Kelly has a condo at Sea Cove" that served as the staging area for the modest ceremony.
The happy couple and wedding party of seven people maintained a safe distance while strolling to an open spot on the beach on the warm, breezy, spring day.
Dana's father, Alan Thoele, played matchmaker for the couple, so family approval of the groom was a cinch.
"We picked him out for her," Thoele said proudly.
"They did," Dana Gold confirmed. "He was my pool boy in Fort Lauderdale."
The couple has since moved to St. Lucie West, a few miles from the medical office in Tradition where Dana Gold and Olkowski were co-workers.
"We'll be having our ceremony and everything again next year with everybody ... followed by our honeymoon in Hawaii," Dana Gold said. "But for now our honeymoon will be on our back lanai."