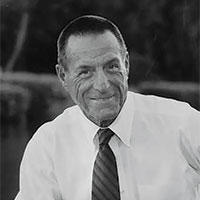 Peter Benedict, 'patriarch' of St. Edward's School, dies at 84
STORY BY RAY MCNULTY
Photo of Peter Benedict

Peter Benedict wasn't the founding leader of St. Edward's School – he arrived on campus in 1969, four years after the school opened its doors – but as news of his death spread through the community last week, the longtime headmaster was remembered as the man who put the private seaside academy on the map.
"Peter was the patriarch of the school," said Bruce Wachter, who spent 45 years at St. Edward's as a teacher, coach and administrator before retiring in 2018. "He was in the saddle from 1970 through the spring of 1995, and he got virtually every ball rolling. He set the template."
Benedict, who lived on Vero Beach's barrier island for decades, died on April 25. He was 84.
It was Benedict's lofty vision, relentless drive and hands-on approach that Wachter and others said set the tone for St. Edward's rise.
During his tenure, Benedict carefully nurtured and deftly managed the growth and expansion of a school established in 1965 with 31 students on one campus in grades 3 through 8. When he retired 25 years ago, St. Edward's had 756 students – pre-kindergarten through 12th grade – on two campuses.
In an email to the St. Edward's community last week, Head of School Mike Mersky wrote that Benedict "truly was the architect" and "torch bearer" who guided the independent school through its critical early years.
"Peter did a marvelous job of promoting St. Edward's," Wachter said. "The school was growing by leaps and bounds, but appropriately so. We didn't try to be all things to all people."
Instead, the school embraced Benedict's vision of transforming St. Edward's into a New England-type prep school, where the mission was to prepare students for college – academically, culturally, and even athletically.
It was a vision he brought with him from Fairfield Country Day School in Connecticut, where he taught English, coached football and basketball, and served as admissions director.
"Many of the things we did in the early years were standard practices at New England prep schools," Wachter said. "We had a dress code for the Upper School, where boys wore ties, and the younger kids wore uniforms.
"There was no question that academics came first," he added. "The library was one of Peter's favorite buildings, so it's fitting that it's now named after him. But he was all about the three A's – academics, arts and athletics. He believed in developing well-rounded students. He was a big proponent of the 'sound mind, sound body' philosophy.
"That's how he lived, and that's what he wanted from his students."
Benedict wanted St. Edward's graduates to not only go to college, but to go to the colleges best suited for them.
"Peter told me many times: Where the kids go to college and how they do there is our report card," Wachter said. "He wanted our kids to be well-prepared, but what was important to him was the match – that the colleges they selected were the right places for them."
To make sure St. Edward's students were prepared, Benedict was selective in hiring teachers and administrators, but it wasn't always easy. Often, the salaries he was able to offer were less than the candidates were already making or were not competitive with what was being offered by other employers.
So, Benedict sold them on Vero Beach and smaller classes – and his vision.
Back in 1973, while still a senior at the College of William & Mary, Wachter became one such hire, eschewing better-paying positions elsewhere to accept a teaching job at St. Edward's, where he started at $6,900 per year, plus a $75 coaching stipend.
After Wachter applied for the job, Benedict arranged for him to fly to Vero Beach for an interview, then made his offer. However, Benedict wanted an answer the next morning.
"That story is an example of someone who saw what he wanted for the school and made things happen," Wachter said. "But he was not impulsive, or reactive or reflexive. He was decisive."
Benedict was also hands-on, visible, and active on campus. He attended every school dance, every sports event within reasonable traveling distance and often would pop into classrooms to observe for a few minutes the interaction between teachers and students – all of which made him immensely popular with students.
It was important to him to know every student's name.
"Peter was the quintessential headmaster," Wachter said. "His presence was everywhere. While he was very supportive of the faculty, the kids that came through St. Edward's, especially in the 1970s and 1980s, really loved him."
They respected him, too, and still do.
"You can demand respect, but it's hollow," Wachter said. "Peter commanded respect. For a long time, I had the toughest time calling him 'Peter.' To me, he was always 'Mr. Benedict.' Finally, one day he said to me: 'You've been here 15 years. You can call me Peter.'
"There are former students still around town – guys who are 63 and 64 years old – and they still called him 'Mr. Benedict,'" he added. "That's special, but so was Peter's love for St. Edward's, and that didn't end when he retired."
Fourteen years after his retirement, as St. Edward's confronted growing debt and declining enrollment, Benedict recommended the school's Board of Trustees hire Mersky, who was then the headmaster at Lancaster Country Day School in Pennsylvania.
Mersky has announced he will retire next month after a successful, decade-long run, and St. Edward's is again financially sound.
"There is much to be said about the patriarch of our school," Mersky wrote in his email. "He was the genuine article and, as with few in my life who have passed, I know that a person like Peter Benedict only comes our way once, and those who knew him should feel blessed that we were touched by greatness."
Benedict, who was born in New York City and grew up in nearby Yonkers, graduated from Rollins College in 1959 and served in the U.S. Army Medical Corps before earning his master's degree in education at the University of Arizona in 1963. He embarked on his teaching career shortly afterward.
He received his pilot's license at age 17 and became a competitive acrobatic flier. He ran marathons. He also enjoyed riding his Harley-Davidson motorcycle.
After retiring, Benedict actively participated in the rebirth of McKee Botanical Garden and served as president of the Indian River Land Trust.
"Peter had other involvements, but his heart was in education," Wachter said. "I'll always remember him saying: 'Education is the one thing you can give to your child that no one can take away.'"