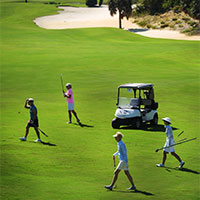 Private clubs again providing amenities shut by pandemic
STORY BY RAY MCNULTY
Photo: Four golfers enjoying play on the Hawk's Nest Golf Course on Tuesday morning, May 12. The course is open to members while practicing social distancing.

Little by little, week by week, Vero's golf and country clubs have begun reopening their facilities and providing the amenities shut down in March to combat the spread of the coronavirus pandemic.
Most clubs have reopened their golf courses, tennis courts and dining facilities – as well as swimming pools, beach clubs and fitness centers – albeit with restrictions governing social distancing, capacity, sanitization and other safety-enhancement measures.
Almost all the clubs initially restricted use of their amenities to members only, though some began easing that limitation last week.
Of the larger clubs in the community, only Grand Harbor remains closed – and, according to a recorded message delivered when calling the club's main phone number, will remain so "until further notice."
The recording goes on to say: "The clubhouse, golf courses, beach club and tennis center are closed. There are no services at those locations. We will resume operations as soon as we are confident the spread of the coronavirus has subsided."
Several clubs never closed their golf courses, opting instead to impose rules limiting carts to one rider, spreading out tee times, prohibiting the removal of flagsticks for putting and enforcing social-distancing requirements.
"We never really closed the club," Quail Valley General Manager Kevin Given said. "We shut down what needed to be shut down in keeping with the governor's order. But we never closed our golf course, we continued to offer our members carry-out food service and delivery, and we've remained fairly active."
While Quail Valley's mainland restaurant at The Pointe remains closed, as does the club's wildly popular Tiki Bar, Given said outdoor dining at the River Club has returned under the capacity restrictions.
The club's tennis courts, which were closed for nearly a month, reopened two weeks ago with singles-only play and began allowing doubles matches last week. The swimming pool also has reopened, but only for lap swimming and with limited capacity, and the fitness center opened its doors last week.
Other clubs were following a similar path to reopening.
Orchid Island Golf & Beach Club never closed its golf course, opting for restrictions like those at Quail Valley. The tennis complex, which was initially shut down, reopened with singles play two weeks ago and for doubles last week.
The pool is open for lap swimming and water aerobics classes, but lounge chairs and towels have been removed. Though the fitness center remains closed, four personal trainers were scheduled to begin one-on-one sessions this week.
On-premises dining is limited to outdoors only, but the club offers carry-out service for lunch and dinner, as well as a marketplace for groceries.
"We're all moving in the same direction," Orchid Island General Manager Rob Tench said, "but some are moving faster than others."
At John's Island, General Manager Brian Kroh was still digesting the governor's most recent easing of restrictions regarding 50-percent capacity for indoor dining and reopening fitness centers.
"The fitness center isn't open yet," Kroh said Friday. "I'm hoping we will, but there are a lot of precautions that need to be taken, so we might hold off on that for another week."
In the meantime, Kroh said the club probably would increase capacity in its dining rooms while continuing to provide carry-out and grocery service.
Otherwise, the golf courses and tennis courts are open – again, with restrictions – as are the swimming pools, which allow only lap swimming with no more than three people in the water at one time. The Beach Club is open, but there's no towel service.
The Moorings Yacht & Country Club planned to reopen its fitness center and increase its dining room occupancy to 50 percent this week.
Already open were the club's two golf courses, including the Hawk's Nest course on the mainland, as well as its tennis courts, pickleball courts, croquet lawn and spa-nail services. The Yacht Club's docks also are open.
Poolside dining at The Moorings and outdoor dining at Hawk's Nest is available with 100-percent open seating. Modified indoor dining is available in the clubhouses on both campuses.
At Windsor, meanwhile, members say the golf course and tennis courts are open, but General Manager Bob Gallagher said only that he and his staff are "trying to get the club open again" but they "haven't made a lot of decisions."
The usually busy tennis complex at Sea Oaks reopened two weeks ago, but for singles play only and utilizing only half the courts to promote social distancing. The fitness center remained closed Monday, but swimming pools were open.
No dine-in service was available, but the Beach Club continued to offer carry-out service.
Vero Beach Country Club's golf course never closed, but play is limited to members only and single-rider carts. The clubhouse is open for dining at 50-percent capacity.