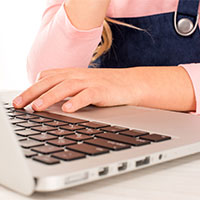 Students learning at home, but badly miss school and want to go back
STORY BY GEORGE ANDREASSI

As springtime drifts toward summer, students usually can't wait for the school year to end.  But this year, many Indian River County School District students are pining to get back into the classroom.
Learning via computer causes difficulties for some, and others miss their friends and teachers and activities they can't do at home, like playing jazz with kids in music class or participating in sports.
The county's 18,000 public school students started virtual learning online March 30 when spring break ended with schools remaining closed to slow the spread of the coronavirus pandemic.
The school district has since decided online learning will continue through the end of the school year on May 28, and many students and parents said they are now looking ahead and hoping kids will be able to return to their classrooms when the new school year starts Aug. 10.
Despite the convenience of online learning, several parents and students said there is no substitute for the expertise and enthusiasm of teachers working with children in a classroom.
"I see the benefits [of tele-learning] with the older children, but I think with the younger children they need that teacher and that push to learn a little bit more," said Shannon Smith, whose son Ryan is a first-grader at Beachland Elementary School.
"They haven't had anything interactive with the other students in the class," Smith said Friday. "He misses his friends and his teachers and just that routine. During virtual school, they're not getting all of that. He's definitely ready to go back to school."
Ryan has been working through lessons on computer programs on a laptop provided by the school district, Smith said. His teacher communicates via email and text and sends certificates in the mail for meeting weekly homework goals.
"I get up and print out the lesson plans for the day," Smith said. "He gets on the computer and does his iReady [reading and math lessons]. It takes a good two-plus hours a day to do the work."
Musicians like Tanner Goulet, a freshman at Indian River Charter High School who plays saxophone and performs in a jazz band, have been unable to take in-person lessons or practice with bandmates.
"I would much rather go to class because to me school has such a huge social aspect," Goulet said. "The worst thing has been that my jazz class hasn't been able to play any music because we've been quarantined.
"The band that I'm in, we do a lot of gigs around town," Goulet said. "We would be going to class and rehearsing songs for gigs coming up, or we'd be rehearsing for a show at school. We had a jazz week show coming up in April that got canceled."
It takes about three-and-a-half hours to complete his daily assignments on the school district computer programs, Goulet said.
Other students face additional problems besides the loss of camaraderie with their teachers and schoolmates, including a lack of motivation or discipline when working at home without supervision or encouragement.
"I did it the first week," said Jayden Mahoney, a junior at Vero Beach High School, about online coursework. But now "I just forget about it and I don't really feel pressure to do it because I don't have to see my teacher's face.
"To be honest, when it's online, I just don't feel like doing it," Mahoney said. "I hope I go back to school because I'm not doing that online work."
Justine Gusaeff, a single parent whose son and niece are eighth-graders at Oslo Middle School, said she can't make sure her special needs son gets on the computer and focuses on his lessons because she has to work all day.
"My son is in an Individualized Education Program, so he needs that extra help," Gusaeff said. "He was in counseling and with all this going on he hasn't been going to counseling.
"Once every couple of months, all the counselors come in and we try to do a game plan for him," Gusaeff said. "Now we don't have that game plan going on.
"His teachers are always emailing me, 'He's behind, he's behind,'" Gusaeff said. "But I can only do so much. I don't get home until 8 o'clock.
"All of the teachers have been reaching out and they're really trying to do their part, but they can only do so much. So it's been difficult."
Mandy Favata said her son Clay, a fifth-grader at Vero Beach Elementary School, has mastered the art of doing his school work online, but misses gym class.
"The only downfall is he doesn't have gym class now so he chooses to not be very active, which is why we're out today biking," Favata said Friday.
"He had a hard time trying to understand in the beginning, not having a teacher to explain it," Favata said about virtual learning. "The teacher has been great. You call her or message her, she's on top of it. She's more than happy to help and walk you through anything and answer questions."
Glendale Elementary School Principal Adam Faust said administrators are constantly discussing ways to enhance communications among teachers, students and parents.
"We're always reflecting on how we can improve, but there's not a benchmark to base it off of," Faust said, adding that there have been difficulties communicating with some students and their families.
"So, I think the biggest piece is being able to make sure you're using social media and any platform you have to reach those families," Faust said. "Some families have lost jobs, or gone through some different things, or even have moved."
Beachland Elementary School Principal Rachel Finnegan said the students and parents at her school have worked well with their teachers to master the virtual learning process.
"This is that digital world kids are living in, so it's great for them to learn these technology skills and also to share it with their families at home," Finnegan said. "It's definitely a learning experience for everyone, making us all a little more tech savvy.
"I think the only thing that hasn't worked well is that our schools are going to remain closed through the month of May and our kids aren't coming back to school to their classrooms," Finnegan said. "But you've got to remain positive and take this digital learning to the next level and hopefully we will all come together again soon."