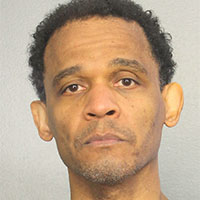 Surgeon's appeal of life sentence rejected
STORY BY RAY MCNULTY
Photo of Johnny Benjamin

The latest chapter in the real-life tragedy authored by Johnny Benjamin was written earlier this month when the once-prominent Vero Beach orthopedic-surgeon-turned-drug-dealer failed to convince a federal appeals court that he wasn't responsible for the death of a 34-year-old Wellington woman.
A three-judge panel of the U.S. Court of Appeals for the Atlanta-based 11th Circuit has upheld the life sentence imposed in 2018 after Benjamin was convicted on charges he produced and distributed counterfeit fentanyl-laced pills consumed by Maggie Crowley, who died of a drug overdose in September 2016.
In denying the appeal, the judges flatly rejected all of Benjamin's arguments, including his claim that law enforcement authorities did not prove he produced the drugs that led to the woman's death.
In his 24-page ruling, Judge Stanley Marcus wrote that prosecutors introduced "more than sufficient evidence to permit a reasonable jury to find beyond a reasonable doubt" Benjamin distributed the furanyl fentanyl – a powerful synthetic opioid – that caused Crowley's death.
Marcus cited text messages found on the woman's cellphone as evidence linking the drugs to Kevan Slater, a Royal Palm Beach man who sold her the pills. Slater said he received the drugs from Zachary Stewart, a Port St. Lucie man who testified that Benjamin was the "ultimate source" of the pills, the ruling stated.
Both Slater and Stewart pleaded guilty to drug charges and cooperated with prosecutors.
Investigators corroborated the accomplices' stories with "compelling circumstantial evidence, including pill-manufacturing paraphernalia with traces of furanyl fentanyl found in Benjamin's home and in his storage unit, and the extensive fentanyl-related search history discovered on his office computer," Marcus wrote.
Marcus, joined in his May 8 ruling by Chief Judge Ed Carnes and Judge Robert Luck, also found "no merit" in Benjamin's scattershot claims that U.S. District Judge William P. Dimitrouleas made several mistakes during the seven-day trial in Fort Lauderdale.
Benjamin, now 54, argued Dimitrouleas erred when he:
• Denied Benjamin's motion to suppress evidence obtained from federal drug agents' search of his bags on Oct. 6, 2017, when, dressed in scrubs, he was stopped at the Orlando-Melbourne International Airport, where he was carrying thousands of pills in a backpack and a ticket to Philadelphia.
• Failed to instruct the jury that Benjamin had to have knowledge that furanyl fentanyl was a counterfeit drug chemically similar to other controlled narcotic substances – a claim made for the first time in the appeal.
• Abused his discretion by choosing to not investigate juror misconduct after a document listing the "Do's and Don'ts of Jury Deliberations"  was found in the deliberation room.
"Finally, Benjamin argues cumulative error," Marcus wrote, but the judges rejected that argument, too.
Benjamin's Miami-based attorney, Philip Reizenstein, did not return a message left at his office.
Benjamin, who was arrested six days after his pills were seized at the Melbourne airport, was convicted two years later on five drug charges. He was found not guilty of two related weapons charges.
The Florida Board of Medicine revoked Benjamin's license to practice in December 2018. Until then, he was a partner in the Pro Sports Pro Spine orthopedic group in Vero Beach and owned a home on the barrier island.