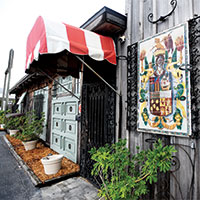 The Patio, iconic Vero restaurant, closed and for sale
STORY BY RAY MCNULTY

For the first time since Vero Beach pioneer Waldo Sexton began designing and building The Patio more than 70 years ago, the restaurant – along with the two-thirds-of-an-acre parcel on which it sits – is for sale.
The asking price is $995,000.
But Sexton's descendants would rather not sell the local landmark, which for decades was a thriving eatery that attracted locals and visitors, including the Brooklyn/Los Angeles Dodgers during their annual spring-training stays here.
Michael Sexton, Waldo's great-grandson and president of the company that owns the now-shuttered restaurant, said last weekend the family would prefer to lease the historic property to a tenant that possesses the talent, ingenuity and financial means to reopen the once-popular eatery and restore its place among Vero's dining traditions.
"We're not looking to just get rid of it," Sexton said. "In all honesty, we're not all that motivated to sell. We'd much rather find a new tenant, the right tenant, someone who knows how to successfully utilize such a wonderfully unique structure."
So why put it on the market?
"The place is a part of our family's legacy and, as much as we'd like it to remain such, it's difficult to carry," Sexton said. "So we thought this was a good time to test the waters and try both routes – putting it up for sale or lease – and see what happens. We'll entertain all offers we consider reasonable."
The Sextons again have retained the services of local commercial realtor Billy Moss, who specializes in the sale and leasing of businesses, particularly restaurants.
Moss said the property, which has no historical designations restricting its use, was listed last week and he already has received inquiries. The Sextons are seeking $6,500 per month to lease the 5,145-square-foot restaurant at the intersection of 21st Street and 11th Avenue.
"The place has an aura about it; you can feel the history when you walk in," Moss said. "That doesn't mean it has to remain 'The Patio.' But it was a special place in Vero Beach for a long time, and the Sextons have an emotional attachment to the property and would love to see it come back.
"It just needs what a lot of restaurants need: the right operator."
While The Patio has enjoyed stretches of success over the years under different tenants, the restaurant mostly has struggled since the start of the Great Recession in 2008.
Among those tenants was Leanne Kelleher, The Tides owner and chef who ventured to the mainland and put together a strong six-month showing during the 2012-13 season. She was unable to attract enough business through the summer months to remain viable, however, and the Sextons allowed her to break her two-year lease after the first year.
Kelleher was The Patio's fourth tenant in five years.
The most recent effort to revive The Patio ended last month, when Bill Brown, an Orlando restaurant manager, closed its doors after an up-and-down, five-year run – and amid the ongoing coronavirus pandemic.
"I think the run was coming to an end, anyway," Moss said, "but the coronavirus certainly didn't help."
But could the current situation help another tenant?
"It's set up for post-pandemic business," Moss said. "There's a tremendous outdoor patio where people can dine al fresco, and the way the place is situated, you can have carry-out service on the parking-lot side of the restaurant.
"There are so many possibilities beyond a place to have lunch and dinner," he added. "There's a huge bar, so you can develop a bar business. You can expand carry-out service. You've got rooms that can be used for meetings or parties. It's also the perfect setting for sit-down business lunches.
"The place is in awesome condition, and it's an opportunity to run a full-service restaurant with a lot of parking – right in the middle of town."
Geographically, it is.
The Patio, though, is not part of what's now considered Downtown Vero, which was enjoying a renaissance before the coronavirus pandemic shut down or severely limited many of the businesses there. Nor is it within easy walking distance to downtown Vero's arts and dining district.
While the restaurant is sandwiched between two of the city's busiest roadways – 21st Street (U.S. 1) and 20th Place (State Road 60 westbound) – it's located in the no-man's land between Downtown Vero and Miracle Mile.
If that's a hindrance, Sexton believes the right restaurateur with the right plan and menu can overcome it, especially in such a nostalgic building, which features five dining rooms, a large bar area and an exterior décor of weathered wood and wrought-iron grills.
Another challenge for the next tenant, if there is one, is the restaurant's size.
At 250 seats, plus another 50 in the bar area, The Patio is bigger than the Ocean Grill – which Sexton's great-grandfather also designed and built – and the larger the building, the more it costs to operate.
"There's no single operator that has a restaurant that big," Kelleher told Vero Beach 32963 in November 2013, when she walked away from The Patio, where she said her utility bills exceeded $5,000 per month.
She said she needed to "fill those seats twice for seven days to pay the costs for a restaurant that big," adding that it would've taken her another year to turn a profit there. Instead, she returned her focus to The Tides, one of the island's most popular dining spots.
"A lot of people have tried, and we've had a series of failed attempts, which breaks my heart," Sexton said. "I don't really know what has gone wrong, but I know there's someone out there who can make it work."
And if that's merely wishful thinking …
"It wasn't a quick or easy decision to put the place up for sale," Sexton said. "We've thought about this for a long time. The Patio is a huge part of our family history, going all the way back to the 1930s, and it was designed and built by such an eccentric and wonderful man who meant so much to our community.
"We're very proud of our heritage here, so, to us, The Patio is irreplaceable," he added. "If we had to sell, it would be a bittersweet thing."