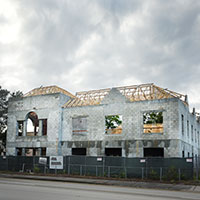 Downtown Vero gets its first new office building in a decade
STORY BY STEVEN M. THOMAS (Week of November 19, 2020)
Photo: A new Professional Center is being built at 1745 20th Street.

The first new Class-A office building in Downtown Vero Beach in more than a decade is going up on 20th Street a couple of blocks west of the county courthouse and will be complete next summer, according to developer Joe Foglia.
The concrete shell of what will be a handsome, brick-clad, Federal-style structure – a considerable visual upgrade on most of the buildings along that stretch of 20th – is nearly complete, and commercial real estate broker Billy Moss says there is strong interest from potential tenants.
"It is always a pleasure to represent a distinctive building," says Moss. "I think the design is spectacular and its location and visibility will add to its success.
"With this building being located so close to the courthouse, I figured it would most likely contain law offices, so I felt it needed to be dignified, solid, and done in a classically American architectural style," says architect Hal Lambert, who designed the building.
The two-story building will be distinctive not just for its design but also because it doesn't have much competition as a brand-new downtown office building. None, in fact.
"I think the Chamber headquarters was the last substantial commercial building built downtown," says Moss, referring to the attractive Mission-style Indian River County Chamber of Commerce building by the railroad tracks on 21st Street – which was completed way back in 2007.
New first-class construction is appealing to investors who like to buy leased-up office buildings as income properties because they can count on repair expenses being lower than for older buildings, and to tenants who like the prestige of being in a new building customized to their preferences with all the latest comforts and technologies.
The lack of commercial development in the area was one of the things that attracted Foglia to the project. "I like the downtown area of Vero Beach," he says. "At the time I acquired the site, I didn't see a lot of commercial construction downtown and I still don't. This was a good opportunity."
The new building is located at the edge of Vero Beach's designated Downtown District where it gets certain zoning advantages, including a reduction in the number of parking spaces required because the city provides downtown parking, including in the courthouse parking garage, a block east of the project.
Foglia says financial and medical tenants are being courted along with legal firms. With a grand, two-story lobby facing 20th Street on the first floor, along with covered parking, there is about 7,500 square feet office space on the second floor, which could go to a single marquee tenant or be divided into as many as five office suites. Space will be built-out to suit tenant requirements, whether for wood-paneled attorney's offices, heavy on the millwork, a more open, cubical-based design for a financial services company or with specialized features needed by a medical office.
Foglia is known to barrier island residents as the builder of spectacular oceanfront homes – including the 40,800-square-foot compound at 1940 S. A1A in the Estate Section that resold last summer for $25 million and the modernist masterpiece at 3700 Ocean Dr. currently listed for $19,950,000 with Brown Harris and Web at Premier Estate Properties – but he says Foglia Contracting, founded by his father 40 years ago, began as a commercial builder.
He bought the lot at the edge of downtown in 2016 for $550,000 but was too busy with other projects for several years to tackle the office building.
He says he paid a higher price than he otherwise would have because the site came with city approvals for a new office building, which saved him time and expense.
Some preliminary work was done at the site in 2019 and building began in earnest earlier this year after Foglia secured a construction loan from MidFlorida Credit Union.
The office space is being marketed at $24 per square foot. If Moss is successful in getting that rate, the building would generate around $180,000 per year, fully occupied, making it worth between $3.6 million to $4.5 million to an investor.
"Relatively few buildings in Vero Beach are clad in brick," says Lambert. "This building will be all brick, with decorative stone columns and trim. This, along with the green standing seam metal roof, will make it stand out and become a 'Landmark' building. It adds [to the built environment] a prominent, first-class property with covered parking close to the heart of downtown Vero done in an enduring American architectural style."
"I think it will help stretch downtown west and bring more customers to downtown restaurants," says Moss. "Joe has vision. He does first-class work all the way and I think he will do more projects downtown."