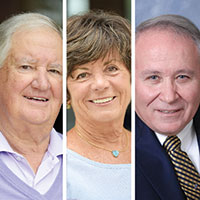 Indian River Shores swears in new council Thursday
STORY BY LISA ZAHNER (Week of November 5, 2020)
Photo: Joining Indian River Shores Town Council (from left): John McCord, Mary Alice Smith and Chris Hendricks.

Regardless of what might be going on in national politics, the Town of Indian River Shores was planning to celebrate the peaceful transfer of power to a new mayor, vice mayor and three new council members at 2 p.m. Thursday.
While other cities needed to wait until votes from Tuesday's election were certified to hold organizational meetings, the Shores' three candidates did not face any opposition for their three seats.
Thus, there was no need for a town election this year – enabling them to be sworn in less than 48 hours after the polls closed.
Joining incumbent council members Sam Carroll and Brian Foley were Chris Hendricks, Mary Alice Smith and John McCord.
Hendricks, who moved to the Shores in 2003 after retiring as Deputy Inspector General of the U.S. House of Representatives, is also a CPA, auditor, Realtor and longtime chair of the town's Planning Zoning and Variance Board.
A 22-year John's Island resident, Smith is well-known for her enthusiastic philanthropic work, her strong support of the Shores Public Safety Department and her pivotal role organizing the men's 2015 USGA Mid-Amateur Golf Tournament held at John's Island.
McCord has owned property in John's Island since 1998 and became a permanent resident in 2013 after rounding out a successful career as an energy industry executive – experience he used behind the scenes to further the effort to sell Vero electric to Florida Power & Light.
Since both Mayor Tom Slater and Vice Mayor Bob Auwaerter did not seek re-election, the newly seated council had to nominate and select a new mayor and vice mayor, as well as divvy up the duties of attending various county and regional committees and reporting back to their colleagues in the town.
It's the first time in decades that the Shores will have three different people serving as mayor in a span of less than three years. Slater was appointed to former mayor Brian Barefoot's seat in the summer of 2018 and was chosen by his colleagues to hold the gavel. Now a new mayor will lead the town meetings as Slater returns to private life.
"We have some terrific people serving on the council and the town is well run and in great financial shape," Slater said. He added that he counts the hiring of Town Manager Joe Griffin as one of the greatest accomplishments of the council.
Slater said the most pressing thing he, Auwaerter and Councilwoman Deb Peniston leave unfinished is the water-sewer breach of contract dispute with the City of Vero Beach. Plans and funding for the Town Hall Complex remodel have already been approved, but the new council will need to keep the project on track and on budget.
When asked if there were any initiatives he wished he'd had time to pursue to before departing, Slater said he thinks there's an opportunity for the Town of Indian River Shores to possibly expand by approaching communities on its northern border about voluntary annexation.
The triple-trained Shores Public Safety Department would be the big draw to those areas that are now served by Indian River County Fire-Rescue and the Indian River County Sheriff's Office.
"But that's for the next council if they are interested in that," Slater said.