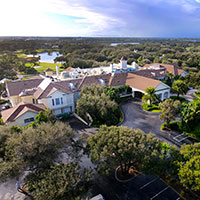 John's Island closes dining rooms for rest of month after positive COVID-19 tests
STORY BY MICHELLE GENZ (Week of November 26, 2020)

John's Island Club – one of the most prestigious and COVID-cautious venues in Florida – temporarily shuttered its two large dining rooms last week after three staffers tested positive for COVID-19. The three were among 200 employees in the club's food and beverage operations.
With the dining room closures coming barely a week before Thanksgiving, hundreds of members who had planned to celebrate there were left with the club's carry-out or home delivery options – or finding another restaurant at the last minute – instead.
Club members were first told that food and beverage operations including all indoor and outdoor dining would be closed through Nov. 23. But by late Thursday, the decision was made to extend the closure through the rest of the month.
"We don't think it's prudent to have hundreds of people in the clubhouse on Thanksgiving," said John's Island Club's general manager, Brian Kroh.  "The CDC says don't even have a small gathering in your home."
Normally, the Golf Club dining room seats 750 to 850, and the Beach Club dining spaces seat even more than that, Kroh said.
The news about dining venues closing came via email to club members last Tuesday, minutes after management learned of the positive cases.
"We found two because they had symptoms and then the third [tested positive]," said Kroh. 
Twelve other employees were deemed to be close contacts of the infected three, as were six club members.
Those members were notified, and the employees received PCR testing Thursday; all the employees were without symptoms at that point. Two of the 12 subsequently tested positive.
Kroh said a second group of employees were also tested because they shared a shuttle to and from work with the infected staffers. All staff boarding the vehicle are routinely given a temperature check, and all must wear masks, Kroh said. "We have been barraging them with reminders to be careful."
At press time Sunday, Kroh said all 39 had tested negative.
It's not known if the quarantining club members were tested. John's Island has been offering regular testing since late October on site through a home healthcare agency that sends the swabs via courier to a lab in Port St. Lucie. Typically, results are returned within 48 hours, according to Natalie Kornicks Savadge, who runs the testing program for Indian River Home Care.
While it is not the first time John's Island has had an outbreak, the number of close contacts has made it a "big deal," in Kroh's words. Earlier this year, there was a spate of COVID-19 when several workers in golf course maintenance tested positive, Kroh said. He tied the outbreak to a rise in cases in Fellsmere, where the workers lived. Exposure to others was limited due to the nature of the workers' jobs.
One of Vero's first COVID-19 cases showed up in March in a John's Island resident. In the last couple of weeks, five more residents have tested positive, Kroh said. These appear to have been unrelated to the club's dining operations. Of those, only two were active cases as of Sunday.
John's Island members returning from their summer homes and wanting to use any of the club's facilities are required to present a negative COVID-19 test within 72 hours of arrival and register with the membership office.
Symptom checks and temperature checks are taken at the entrance of virtually every facility, including the dining rooms, where people have to pause at the hostess station to have a no-touch thermometer beamed at their heads. At other points, members are asked to face a screen device that not only takes their temperature, but notes whether they're wearing a mask, and emails the information to key personnel.
The club is still limiting the number of people using the pool, but there is no such restriction to go to the beach.
"The difference between now and spring is that in spring, we said nobody but the equity member, but now we allow family members [at the club], as long as they present a negative test, and as long as the equity member is in residence," Kroh said.
As for dining, once service begins again, family members can only eat in the dining rooms if the equity member is with them.
Kroh said the dining rooms reopened the first week of May at 50 percent capacity and have remained at that level, despite the governor's order to move to Phase 3 of reopening, allowing restaurants to expand to 100 percent of capacity since the end of September.