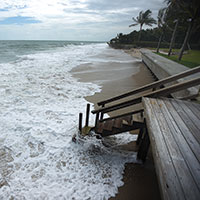 Oceanfront property owners balk at beach repair easements
STORY BY RAY MCNULTY (Week of November 5, 2020)
Photo: The beach near Surfside Terrace takes a beating in the high tides and high winds on Thursday, October 22.

A change in the wording of letters mailed to oceanfront property owners last year backfired on the county, delaying tens of millions of dollars in needed beach repairs.
The county needs easement agreements with beachside landowners to begin the massive sand replacement projects. Delaying the projects has put in jeopardy as much as $17 million in state and federal grants.
In its letters to the homeowners, the county said it is now seeking "perpetual," or permanent, access to a beach management and assessment easement needed for such projects. That was a change from easement agreements secured for previous beach renourishment projects, for which the county was always able to get the agreements it needed.
"We're not trying to seize anyone's property or give the public the right to walk beyond the dunes and into people's backyard swimming pools," County Attorney Dylan Reingold said, explaining the change in wording and attempting to address beachfront property owners concerns. "That's not our intent.
"What we're requesting is permission to go onto their property to perform a service for the preservation of our beaches and the betterment of everyone, including the homeowners."
"In the past, we weren't asking for permanent easement access; it was usually for 10 years," County Administrator Jason Brown said. "But the recent change in Florida law makes it more challenging to prove there's 'customary use' on beachfront property.
"Therefore, we needed to change the wording to 'perpetual' to avoid having to go through this process every time we've got to do a beach restoration project," he added. "If we're going to spend millions of dollars in public funds to enhance someone's private property, there must be a public benefit."
Signed into law in 2018, Florida House Bill 631 nullified customary use ordinances and allowed oceanfront property owners to post no-trespassing signs and erect fences to keep beachgoers off the dry sand sections of beach to which they held deeds.
Opponents of the controversial law are seeking to repeal it, embracing the customary use doctrine – Florida's beaches should be open to the public because they've always been that way.
In the meantime, the county wants oceanfront property owners to grant customary use of those sections of beach behind their homes before it will approve beach restoration projects.
"We need to make it clear to the homeowners that, if we renourish the beach behind their house, they must accept that the public has a right to walk along there, look for seashells, use metal detectors – do what people have been doing on our beaches forever," Brown said.
In total, the county had planned to begin repairs to 8.6 miles of eroded shoreline this month, placing 650,000 cubic yards of sand on the beaches and dunes and planting tens of thousands of beach plants to repair storm damage and protect upland property.
After a contract fell through last month, all that work has been postponed, for months or years.
Renourishment of a 2-mile stretch of the south island from Seagrove to The Moorings has been put off until next year because only 56 percent of property owners there have granted the required easement. Ten percent of owners have refused to grant easements. Others have not responded to county overtures.
According to county records, 153 of the 188 oceanfront properties in the northern-tier phase of the project either granted the requested easement or stated an intent to do so as of Oct. 16. Eight had denied permission, and 27 hadn't yet responded.
The county had planned to proceed with that portion of the project up until last week, when the sand contractor backed out of a $17.1 million contract to do the work. The county now plans to rebid the project and to do part of it early next year, beginning in January, with the remaining portion starting in November 2021.
Reingold called the requested easement a "standard requirement" whenever a public agency places sand on private property as part of a beach restoration project. He said the access would allow the county to replenish the sand as far west as the dune vegetation or seawall.
As the county's letter to the homeowners states: "The county is not requesting access on or across any other part of your property, only the sandy beach portion along the shore. All construction activities will be taking place seaward of the dune line."
Reingold compared the easement requested by the county to those granted to utility companies that provide water, sewer, electric and cable services, saying, "You have easements all over your property. This is the same type of thing."
Brown said such projects are more effective "when everybody does it," and the county hopes at least 90 percent of the affected property owners eventually will grant the necessary easement.
If gaps are left in a rebuilt dune because the county doesn't have permission to work on sections of private property, high waves and storm surges can wash through, causing interior flooding and eroding adjacent dunes.
The county could lose as much in $17 million in federal and state grants awarded for the north and south island repairs if not enough property owners approve the easement. Those funds might not be available again for years.
Brown said the county has requested deadline extensions from the Federal Emergency Management Agency and Florida Department of Environmental Protection, both of which provided funding for the project.
"We believe they will be extended," Brown said, "but it's not definite."