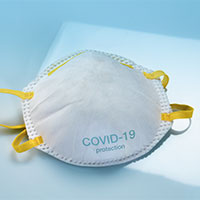 Parents sue county School Board over facemask policy
STORY BY GEORGE ANDREASSI (Week of November 5, 2020)

Jennifer Pippin was already unhappy that official policy required her daughter Summer to wear a facemask all day at the Vero Beach High School Freshman Learning Center.
 Then Summer fell behind in her class work and activities after being directed in mid-October to quarantine for 14 days because of exposure to a COVID-19 positive student in the high school cafeteria.
Fed up, Pippin joined three other parents in filing a complaint last week against the county School Board asking a state judge to suspend the mandatory facemask policy and schedule a hearing on claims their Constitutional rights are being violated.
"It's not just: 'We don't want masks,'" Pippin said in an interview. "The School Board of Indian River County violated a lot of laws, parental rights laws. The biggest thing is the masking and quarantining without parental consent."
The parents contend the mandatory facemask policy violates the Florida Constitutional requirement of providing a free public education, creates a system that is separate and unequal, and violates parental authority to determine their minor child's medical treatment. The lawsuit equates the mask requirement to medical treatment.
Patrick Leduc of Tampa, the attorney representing Pippin and three other parents, has also filed lawsuits challenging mandatory facemask policies in the Sarasota and Lee county school districts.
Judge Janet Croom had not set a hearing date as of Friday on the request to suspend the School Board's mandatory facemask policy pending a ruling on its legality, 19th Circuit Court records show.
School district spokeswoman Cristen Maddox provided the following statement Friday in response to the complaint:
"The school district's re-opening plan includes a face covering requirement when social distancing is not possible for all staff, students and visitors on our school campuses.
"This requirement is based on guidance from the Centers for Disease Control, the state and local Department of Health, and other medical experts. These experts agree face coverings are an important component in preventing the spread of COVID-19.
"There are several exemptions to the face covering requirement included in the re-opening plan, and we continue to work with our families based on the individual needs of their students.
"The district welcomes the opportunity to defend its re-opening plan in court, and does not otherwise comment on pending litigation."
In an interview after last week's School Board meeting, School Superintendent David Moore said the district is following CDC guidelines and Health Department decisions regarding the mandatory facemask policy and the quarantining of students.
"When you look at what other districts are doing, in terms of our mask policy, we're extremely flexible," Moore said. "We're not taking that hard line: 'It's this way or the highway.' We have exemptions.
"We're doing everything in our power to have a system that meets the needs of everyone while at the same time understand those unique needs for individuals," Moore said.
A plan for phasing out the mandatory mask policy is being formulated with the help of local pediatricians and medical experts, Moore said. A draft will be presented to the School Board for discussion on Nov. 17 and the final plan will be up for a vote in December.
"When should we consider moving away from masks, (and) what criteria need to be in place?" are the key questions, Moore said.
State Health Department officials in Indian River County determine which students must quarantine because of exposure to a student diagnosed with COVID-19, Moore said.
"I think we've created a model system that minimizes quarantining," Moore said. "On any given day, there's never been any higher than 1.6 percent of students out of school as a result of quarantining. Typically it averages about 1.4 percent."
But Pippin and two other parents suing the School Board said they're upset because they believe their concerns about their children's health and their parental rights have been overridden.
"When can these children stop from being muzzled up in order to receive an education?" Nicole Campanelli, whose son attends elementary school, said during the Oct. 27 meeting. "Is he going to have to wear a mask for the next 10 years of his education?
"It's disgusting and it's frightening that you are letting this happen so please stop using this pandemic as an excuse to boost your power because you're only hurting our children," Campanelli told the board.
Alexandra Nobregas, another parent suing the School Board, said she withdrew her daughter from elementary school Oct. 26 "due to the dysfunctional behavior and lack of leadership."
Nobregas criticized Moore and outgoing School Board Chairwoman Laura Zorc for not wearing facemasks during the presentation of Zorc's public service plaque.
"It's not about your health when we see an award of the superintendent, handing an award without a mask, bare hands, shaking hands with Ms. Zorc," Nobregas said. "It's not about health because if it's really that concerning to you, you would be tapdancing to the guidelines you proposed."
While the facemask policy and quarantining protocols attracted dozens of parents and teachers to recent School Board meetings, they don't seem to be an issue at Vero Beach High.
None of the students or parents interviewed during an informal survey outside the school last week had any problem with facemasks or quarantining.
"We've actually been very happy with how they've handled things," said Summer Parmelee, whose daughter Chesley is a sophomore. "The school handled the masks and the mask situation well. She's had no problem with that."
Chesley was directed to quarantine for 14 days after displaying a couple of symptoms related to COVID-19, Parmelee said. By the time her negative test results came back, she had already returned to school.
"I wasn't happy about it, but I understood," Parmelee said. "She fell behind in a couple of classes on quizzes, which she was able to make up with no problems or issues. The teachers she has have been very helpful, more so this year than any other year. They seem more attentive. They want to be here and they're happy to help."
The students have embraced the mask requirement, Chesley said. "No one really wants to do it, but we have to do it, so everyone really follows the rules."
Grayson Carmichael, a sophomore, said some of his friends who had been quarantined fell behind on their school work, but the facemask requirement has not been a problem.
"I feel safe because I feel they take the necessary precautions in cleaning and wearing masks," Carmichael said.