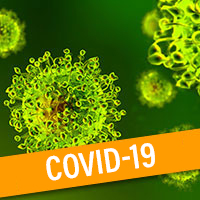 Troubling surge occurring here in COVID-19 cases
STORY BY LISA ZAHNER (Week of November 12, 2020)

The highest number of new daily COVID-19 cases since the summer surge was reported this past Sunday as 48 people tested positive and Indian River County's cumulative case count topped the 4,100 mark. The last time cases per day were that high was early August.
In November so far, the county has added an average of 29 new cases per day. While that number remains lower than the high of 55 cases per day back in July, the county's top public health official expects even more cases in the coming weeks.
Miranda Hawker, executive director of the county Health Department, told the Vero Beach City Council on election day that she's seen a troubling surge in the county's two-week rolling average of daily cases, and that rising case numbers severely hamper her agency's ability to do contact tracing.
"When we get in a situation of rising cases, which we will in the next few weeks, we will prioritize the contact tracing to schools and long-term care facilities," Hawker said. "The areas we focus on are situations most at risk."
That statement was prompted by questions from Councilman Rey Neville, who had COVID-19 in June and still has lingering effects from his bout with the virus. Neville told Hawker he did not receive a timely call from the Health Department and when he was finally called, he was only asked about his symptoms. No contact tracing was done.
Hawker explained that Neville's diagnosis came during a time of surging cases, when contact tracing of individuals was not a top priority.
Neville, a longtime asthmatic who suffers from frequent bouts with bronchitis, pointed out that he is a widower, lives alone and probably should have gone to the hospital at the worst stage of his disease, but that the "fog" of his COVID-19 illness impaired his judgment at the critical time when he was feeling his worst.
Mayor Tony Young pointed out to Hawker that Neville's situation is not the exception for Vero's older population, but more the rule. Hawker said the Health Department would start mailing information out to people who test positive.
Neville said he was grateful for all the friends who left meals on his doorstep and checked in on him, but from a public health perspective, he felt very much on his own. Had someone trained from the Health Department called Neville sooner, or made a follow-up call, he might have had the encouragement to go to the hospital or call 911.
The number of COVID-19 patients who did go to hospital and were admitted rose this week, with 19 patients hospitalized on Sunday. That number of current daily hospitalizations has been in the single digits most days over the past two months.
The percentage of available intensive-care unit beds has been 40 percent or better the past couple of months, but at press time Sunday, only 23 percent of ICU beds were open and ready to accept critical patients with COVID or non-COVID illnesses and injuries.
Despite the rise in cases and hospitalizations, only one person has died here from complications of COVID-19 in November so far.
The reason the Vero City Council asked Hawker to its Nov. 3 meeting was to offer some funding to the Health Department if a partnership could be struck to provide rapid testing in the City of Vero Beach, but Hawker told the council her agency did not need the money.
The Indian River County Health Department has only one Abbott rapid testing unit to read the tests, and despite having the funding to buy a second unit, she cannot find one, with agencies all over the country looking to spend millions of CARES Act dollars at the same time.
Councilman Joe Graves, who last week was quarantined after returning to Vero from Columbia where he and his wife adopted a child, told Hawker there is still a problem getting access to testing for Vero residents.
Graves said he asked his physician where he could get a test as an asymptomatic person and his doctor did not know. Neither did other physicians he contacted. Graves finally drove to Orlando to a CVS pharmacy where he swabbed his own nose and submitted a do-it-yourself test in the store – and eight days later was still waiting for a result.
"There seems to be a disconnect within the medical community and the ability to get these tests done," Graves said.
Hawker told Graves she would educate his doctors if he could privately provide her their names. As for getting more rapid testing in Vero, or bringing free community testing sites to Vero like the Health Department and the Florida Division of Emergency Management have to Fellsmere, Gifford and the Oslo area, Hawker suggested people go to the Health Department office, which is in the city limits.
Graves said he had called the Health Department and was told he couldn't get a test there. The exchange highlighted the confusion that still exists, even among very informed and proactive members of the community, eight months into the pandemic.
Young asked Hawker if she could tell the council at what point, as cases continue to rise, she would recommend the city take more aggressive action in terms of mask wearing, group gatherings or other public health measures.
"What I am concerned about is that when I go out – which I'm going out on essential trips – I see less people wearing a mask," she said. Hawker read off the laundry list of everyday things everyone should be doing – wearing a face covering, social distancing, avoiding crowds, frequent hand washing and staying home when you are sick. "That will help us get through the pandemic. That will help more stores and businesses and restaurants stay open.'
Hawker clarified that her position is not a political one and said, "I will give no recommendations on a mask ordinance."
Instead, Hawker presented a graph showing data points where stay-home orders were imposed, then lifted, and when local governments required masks in public buildings or in other settings and showed how cases went up or down based upon the policies in place.
Graves said he wished the city could do more to facilitate contact tracing. After experiencing how contact tracing is done in Columbia, and how patrons of restaurants and other businesses provide a telephone number when they enter to help with notifications should there be an outbreak, he felt that more could be done locally, and that it could be ramped up without a costly program.
Hawker told Graves the city's only role in contact tracing is to provide information should an employee test positive.
Graves said the city council needs to keep up to date on the COVID-19 situation and do what is necessary. "If we can save a person from getting sick or from dying, of course we need to keep that in our thoughts," he said.