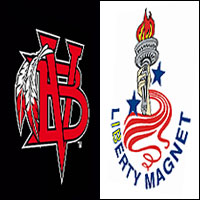 COVID-19 cases pop up at Vero Beach High and Liberty Magnet
STORY BY GEORGE ANDREASSI (Week of October 8, 2020)

Two students at Vero Beach High School and a student at Liberty Magnet School tested positive for COVID-19 in the past week, resulting in the quarantining of 29 students and four staff members.
A total of 20 students and four staff members in 13 different public and charter schools in Indian River County have tested positive for COVID-19 since the school year started on Aug. 24, records show.
State health officials have directed 339 students and nine staff members in the School District of Indian River County to quarantine since schools reopened.
Meanwhile, cases have cropped up in private schools as well.
Tabernacle Christian School in South Vero Beach closed "due to a state mandate," a message on the school's answering machine said.
Two students and an unidentified person associated with the school tested positive for COVID-19 in late September, according to a state Health Department report.
"The School Board has instructed me to respond with a 'no comment,'" Susan Williams, an administrative assistant at the school, said Monday.
A teacher and an unidentified person at St. Helen Catholic School in Vero Beach tested positive for COVID-19 in late September, the state report says.
Both people who tested positive at St. Helen Catholic School were staff members, said Jennifer Trefelner, a spokeswoman for the Diocese of Palm Beach.
"Those individuals did follow proper protocol and they're back in school now," Trefelner said.
Individuals who had come in close contact with those diagnosed with the virus were directed to quarantine, but Trefelner did not specify how many.
The school also underwent deep cleaning at the time, Trefelner said. Among the safety measures in place at St. Helen are mandatory facial coverings, daily temperature screenings, frequent hand washing, social distancing, enhanced cleaning protocols and a ban on visitors.
Going into the first full week in October, school district officials were analyzing the results of a "Campus Health and Safety Measures Family Survey" that was due back from participants on Sunday.
The survey asked parents their thoughts about the in-person and virtual learning models and the health and safety measures instituted on school campuses.