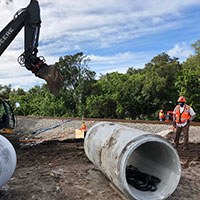 Construction of new tracks for Brightline trains reaches Vero
STORY BY GEORGE ANDREASSI (Week of October 29, 2020)

Contractors working on the $2.5 billion extension of the Brightline passenger train to Orlando from South Florida this week started installing utility pipes along the railroad tracks in South Vero.
The excavation and earth moving was the first sign of heavy construction for the controversial Brightline project in southern Indian River County, where many residents fear the high-speed passenger service will create public safety and traffic congestion problems.
Workers closed an eastbound lane of 4th Street, near U.S. 1, about 10:30 a.m. Friday so a delivery truck could drop off a load of 3-foot-tall, 20-foot-long concrete pipe sections.
HSR Constructors deployed an excavator to dig a trench alongside the Florida East Coast Railway tracks for the large pipes.
Construction workers also used a Crawler Dozer to grade the FECR right-of-way east of the freight tracks to establish a base for a new set of high-speed passenger tracks.
The work started less than two weeks after the U.S. Supreme Court rejected Indian River County's last-gasp appeal of the federal approvals for the Brightline expansion.
Contractors started work earlier this year on the $33 million replacement of the 94-year-old St. Sebastian River Railroad Bridge linking northern Indian River and southern Brevard counties.
HSR work crews have also performed a variety of signal improvements at railroad crossings throughout Indian River County, including Roseland Road, Main Street and route 512 in Sebastian and 77th Street in Wabasso.
Brightline plans to send 34 passenger trains per day through Indian River County at speeds of up to 110 mph in route between Orlando and South Florida starting in late 2022.
Indian River County spent nearly $4 million on legal challenges against the Brightline project, which has also been known as Virgin Trains USA and All Aboard Florida.
The county's appeals against the Federal Railroad Administration's approval of $2.1 billion in interest-free bonds for the Brightline project were rejected by the U.S. district, appellate and supreme courts
A state case asking a judge to declare Brightline responsible for the costs of maintaining and repairing the high-speed railroad crossings to be built in Indian River County is pending in circuit court in Duval County, records show. Currently, local governments cover the costs for the railroad crossings under longstanding agreements with FECR.
There are 32 FECR railroad crossings in Indian River County. The county is responsible for 21 crossings, Vero Beach for five, Sebastian for three, the state for two and one is private.
HSR Constructors is upgrading 129 miles of tracks in the FECR right-of-way between West Palm Beach and Cocoa, including 155 railroad crossings, to meet FRA standards for passenger trains traveling as fast as 110 mph.
HSR Constructors is also a subcontractor helping to build 35 miles of tracks along State Road 528 from Cocoa to Orlando International Airport for passenger trains going up to 125 mph.
HSR is a joint venture involving three large railroad construction companies: Herzog Construction Corp., of St. Joseph, Missouri; Stacy & Whitbeck, Inc., of Almeda, California; and Railworks Corp., of New York.
Meanwhile, construction is going full bore on railroad crossings and tracks throughout northern Palm Beach County and at railroad bridges traversing the Loxahatchee River in Jupiter, Rio Waterway in Martin County and Taylor Creek north of Fort Pierce.
Brightline is escalating construction from south to north along the FECR right-of-way and is expected to start working on railroad crossings in Indian River County in late 2021 or early 2022, records show.
The construction work is taking place even though Brightline trains are no longer running between Miami and West Palm Beach.
The company suspended operations along that stretch of track – the only route it has operated so far – on March 25 to prevent the spread of COVID-19.
Prior to the pandemic shutdown, the train company in 2019 had fewer than half as many passengers as it had projected, 933,000 instead of 2.1 million, according to South Florida Business Journal.
"The company predicted $78 million in revenue for the year," but only took in a little over $20 million, the Business Journal reported.