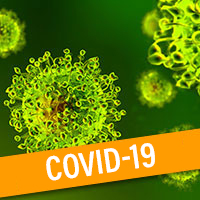 County residents in 20s, 60s lead in positive tests
STORY BY LISA ZAHNER (Week of October 22, 2020)

October so far has produced nearly 300 newly reported cases of COVID-19 in Indian River County but only three reported deaths from complications of the virus. Sixteen people who live on the barrier island have tested positive this month, bringing the cases in ZIP code 32963 to 142 since the start of the pandemic.
Only 21 of the new COVID-19 patients in our area have had to be hospitalized in October. As of Monday evening, state reports showed only six people were currently hospitalized with the virus here.
Of the new October cases, only eight came from the county's nursing homes and assisted-living facilities, so it seems that outbreaks are, temporarily at least, under control in those settings where our most vulnerable people live.
So, who is testing positive? Interestingly, people in their 20s and people in their 60s make up  the largest percentage of our cases – with each group accounting for 19 percent of the cases here.
Not far behind were people in their 30s, who made up 16 percent of the new October cases.
People in their 70s and above, who presumably are the most vulnerable group, only accounted for 15 percent of total cases.
People in their 40s made up 11 percent of the new October cases, with people in their 50s and people younger than age 20 each making up 10 percent of the cases.
The oldest members of our community made up a tiny fraction of the cases, with octogenarians at 2 percent and 90-somethings a scant 1 percent.
School outbreaks continued to pop up, with Beachland Elementary, the island's only public school, having its first outbreak on Sunday with one student testing positive, necessitating the quarantine of 15 additional students and two staff members.
October saw a steep 70 percent increase in people testing positive here who said they had been traveling, but there seemed to be no geographical pattern as the places they said they had been were scattered all over the United States.
States mentioned in the itineraries of the 17 people who tested positive after traveling include Florida, Alabama, Georgia, Mississippi, Texas, North Carolina, Tennessee, Maryland, Massachusetts, Nevada, Oregon, Montana, Washington state, Utah and New York.
One 66-year-old man who tested positive on Oct. 16 had recently traveled to Georgia, Oregon, Nevada, Utah and Washington. Fears of COVID-19 definitely were not keeping this man close to home!