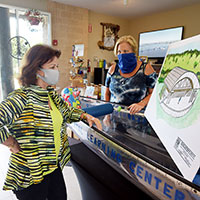 ELC plans November groundbreaking on $1.3 million education and event pavilion
STORY BY SAMANTHA ROHLFING BAITA (Week of October 29, 2020)
Photo: Artist Lisa Rose looks over the rendering of the planned Pavilion with Environmental Learning Center Executive Director Barbara Schlitt Ford at the ARTober Artist Meet and Greet on Saturday, October 24, 2020.

The Environmental Learning Center is on track to break ground on a $1.3 million pavilion and event oval by the end of November, says ELC Executive Director Barbara Schlitt Ford.
The project is the centerpiece of an ambitious multimillion-dollar campus expansion conceived several years ago to reinvent the popular 64-acre nature center, elevating it to "the next level, as a major, regional environmental education resource," says Schlitt Ford.
The pavilion project received a major kick-start in the form of a $1 million donation from local businessman and inventor Tom Schidel early last year.
The 2,500-square-foot pavilion and its adjacent 9,000-square-foot grassy oval will be named the Thomas R. Schidel Education and Event Pavilion during the November groundbreaking ceremony.
The pavilion and oval will be located northeast of the entrance road, on the grassy expanse where the Laura Riding Jackson homestead once stood. The outdoor space will accommodate as many as 1,100 people for ELC events and concerts. It will be rented out for private occasions as well.
The pavilion and oval, which will be built by Barth Construction, is slated for completion by the end of first quarter of 2021.
Except for one month in the spring, the Environmental Learning Center has kept its 64-acre riverside campus open to residents throughout the pandemic, giving people a place where they can breathe fresh air, wander the trails and enjoy the calming, natural environment.
Volunteers are available to answer visitor questions and pandemic guidelines are in place.
Even as new construction gets closer, Schlitt Ford, her staff, board and a reduced corps of about 70 volunteers – many snowbird volunteers have not yet returned – are hard at work spiffing up existing structures.
The ubiquitous boardwalks will receive new durable Trex composite planks, which now can be purchased and engraved in honor or memory of someone; the lagoon-side area and pontoon boat docks are receiving a face-lift; the decrepit old caretaker's cottage is gone and, hopefully by year's end, there will be an eatery in that area for breakfast and lunch, utilizing food trucks.
In addition, fundraising is under way for a splash pad, ticketed at $100,000 to $150,000, and other projects.
Schlitt Ford says the Environmental Learning Center has typically welcomed about 15,000 visitors a year. With the campus and program expansion project, she hopes to increase that by at least 5,000 more annual visitors.