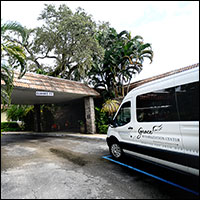 Grace Rehab, once top rated, now run by former director of troubled facility
STORY BY MICHELLE GENZ (Week of October 15, 2020)

One of the county's top-rated nursing homes, Grace Rehabilitation Center, has been renamed Orchid Cove.  It is apparently now in the hands of a New Jersey private equity firm and being run by the former director of one of Vero's most problem-ridden facilities.
The Portopiccolo Group of Englewood, N.J., has been acquiring dozens of mostly low-rated facilities during the COVID-19 pandemic. Barron's, the newspaper published by Dow Jones and Company, said that as part of its "buying spree," the group was eyeing Grace Healthcare, the Vero facility's parent.
In several of its deals, Portopiccolo used loans arranged by Contemporary Healthcare Capital, a company co-founded by Byron DeFoor, the Chattanooga-based founder of Grace Healthcare and owner of a house on Vero's Ocean Drive.
Whether by purchase or by management agreement, Portopiccolo has placed Grace Rehab under its Orchid Cove brand, one of dozens of names used for the company's 100 or so facilities, according to Barron's.
A sign out front of the Vero facility reflects the new Orchid Cove name, replacing the Grace Rehab sign that for years boasted the facility's five-star rating.
Edwin Rojas, who took over management of the facility in August, most recently ran Palm Garden of Vero, the largest nursing home in Vero and notoriously one of the worst. In the two years Rojas ran Palm Garden, the facility was not able to raise its one-star overall rating.
Last year, on Rojas' watch, Palm Garden was named a candidate for a federal list of nursing homes in need of added oversight, the Special Focus Facility List. It also earned an $80,000 federal fine for violations uncovered in an inspection a month after Rojas started.
According to Rojas' LinkedIn profile, for 12 years, until 2016, he also ran another skilled nursing facility in Vero – Atlantic Healthcare, now known as Sea Breeze. The month Rojas left Atlantic, May 2016, the nursing home was cited for multiple deficiencies in an 81-page report.
Now it is Rojas' new home that is in trouble. Grace Rehab – the state's Agency for Healthcare Administration has yet to reflect the name change – was just fined $4,500 for improperly listing past or present employees on AHCA's criminal background check registry.
That administrative complaint pales compared to what AHCA calls the "immediate jeopardy" residents faced in a Class 1 deficiency – the most serious type of violation – based on an inspection that took place in early August. That inspection, and the single incident it tracked, caused Rojas' predecessor, an interim administrator, to be suspended and then fired.
A Class 1 deficiency is "one that requires immediate corrective action because the facility's noncompliance has caused or is likely to cause serious injury, harm, impairment or death to a resident," the statute reads.
AHCA's report detailed an incident involving a resident of Grace in a wheelchair who traversed the entire facility, passing two nurses' stations, and made it outside undetected through an unlocked exit off a screened porch.
Once outside, one wheel of his chair apparently slid off the sidewalk and wouldn't budge, leaving the resident exposed to the scorching midday sun for as long as two hours. The nursing assistant who found him, dazed and slumped over, had to call another nurse to help pull the wheelchair out of the grass.
The man suffered second-degree burns with his body temperature rising as high as 103, according to multiple witnesses. But the registered nurse charged with his care told the AHCA inspector the patient was only "a tad warm, like 99 degrees I think."
The same nurse, whose name was redacted in the AHCA report, wrote a report the afternoon of the incident claiming she herself had found the resident, not outside, but on the facility's screened patio, and said that he had been seen just 10 minutes earlier, not two to three hours, as others reported. One aide said she was told by the R.N. to say the man had been missing only 10 minutes.
Asked for comment on that incident as well as his new responsibilities, Rojas acknowledged receipt of the request but never got back with a response, despite repeated follow-up emails.
Since 2004, Grace Rehab has been owned and operated by Grace Healthcare.
Prior to all the changes, Grace Rehab was run by Randall Rees, who came to Vero from Grace Healthcare's Lake Wales facility 10 years ago. Rees, whose leadership garnered Grace Rehab its consistent top ratings, left as the new company took over.
The Vero nursing home, on 10th Avenue on the bend in U.S. 1 near downtown, was long known as Royal Palm Convalescent Center until Grace Healthcare took over. It was founded by Arthur and Marian Block in 1965, and a plaque attesting to its mission, "to care for the elderly citizens of Indian River County," is still posted on a brick column outside the front door.
Arthur Block, who arrived in Vero in 1937, opened a department store a year later in Vero's downtown and became a founding member of Florida National Bank in Vero Beach. He was instrumental, along with his wife, in the founding of the Treasure Coast's first synagogue in 1948.