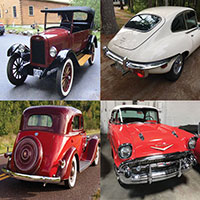 Proposed Vero auto museum excites local car collectors
STORY BY LISA ZAHNER (Week of October 15, 2020)

Automobile enthusiasts on the barrier island are watching with great interest plans to open a classic car museum in 2021 in the former Press Journal building on U.S. 1 in Vero Beach.
Wayne Gould, a Tucson-based car collector and long-time beachside resident, came up with the idea, which caught the attention of the Vero City Council last week. Councilmembers unanimously granted a request by Gould to have the words "commercial museum" added to the city code as a permitted use in the C1 commercial zoning district where the abandoned newspaper building is located.
Back in August, Gould, who said he has enjoyed living in the 32963 zip code since 1998, attended a preliminary hearing about his application, which he paid $2,000 to have considered. "It's an art museum but all the art has wheels," Gould told the city's planning and zoning committee.
The vote last week by the council was not controversial, as the C1 district permits the most intensive commercial uses like big-box retail or even a used car lot, but it did prompt a round of smiles and a buzz at city hall at the prospect of locals and tourists having the chance to view dozens of beautifully restored, vintage, rare and exotic cars in the "Wayne's Toys" collection.
Vero Planning Director Jason Jeffries, a self-described "car guy," said he was excited about the plans behind the routine city zoning agenda item. Jeffries stated that Gould would be relocating his entire Tucson operation to Vero, but Gould was not ready to confirm that on Monday.
"Because it is so early in the process, we are not ready to announce full plans. I can tell you that my family and I have been residents of Vero Beach for over 20 years and know well what a wonderful community and classic car culture are already there," Gould said.
Gould said he's hoping to develop a "commercial aspect" of the project eventually, "but it's going to be a museum first." He said local collectors have told him they need a central location to display their automobiles – especially those that are up for sale.
"They said, you need to help us out," he said. "So, we might have a small, designated area [for car sales], but largely it's going to be a private collection."
Wayne's Toys Classic and Historic Cars museum in Tucson is the current home of Gould's cars. The museum, where 60 to 75 cars are typically on display, is open to the public in the fall and winter for four hours each Saturday, for a $10 admission fee, with discounts for veterans and seniors.
The museum also serves as a venue for charitable events and private parties throughout the year, and Tucson-area residents who want a classy ride to their wedding or other special celebration can hire one of the cars from Gould's collection, along with a driver.
Gould said he has not yet purchased the 42,000-square-foot former newspaper building from Vero Beach resident William Summers, who paid $1.4 million to take the property off Scripps' hands in 2015, but negotiations are in the works. "The acquisition of the PJ building is scheduled to close in early January and we hope to be open to the public by late 2021," Gould said.
John's Island resident and longtime auto dealer Ron Rosner of Rosner Motorsports, owner of a 50-car, $7 million collection of classic imported autos, is enthusiastic about Gould's concept.
"I'm not familiar with his other museum, but if he's going to open in Vero it would certainly enhance the community," Rosner said, adding that he visits classic car museums when he travels and anticipates collectors and others who love classic cars would stop by the museum when they are in the area.
Rosner's neighbor and friend, Gordon Stewart, owner of Motor City Classic Cars, a 50-car, $3 million collection of American classic and muscle cars, was curious to hear more details about how Gould plans to make a commercial venture out of a museum concept.
"I wish him well," Stewart said. "There are a lot of collectors in Indian River County, people who own six to 12 vehicles, but I don't know how many times those people would go to a static museum. He might find that Vero Beach is a very different market than Arizona."
If Gould plans to offer climate-controlled space for collectors, that could tap into the local market, Stewart said. "There is a hunger for places to show classic cars, and there's a hunger for places to store classic cars." 
Stewart said Vero's humid seaside climate is not a good spot to keep a restored major investment vehicle in a garage that isn't air conditioned. His Motor City facility is kept at 72 degrees and low humidity, "The same as Piper Aircraft," he said.
Longtime Moorings resident Vince Deturris, one of the driving forces behind the annual Wheels and Keels car and boat show charity event held at The Moorings each spring, said there's potential for Gould to tap into barrier island residents' obsession with classic and antique cars, but he, like Stewart, wonders how Gould will make a commercial success of the museum.
"There is a phenomenal amount of interest in classic cars and in collecting them in Vero," he said, but added that a Vero museum would need to be pretty spectacular to compete with other local collections at the Elliott Museum in Stuart and the American Muscle Car Museum in Melbourne.
Fred Kiesel serves on the board of the Indian River Region Antique Auto Club, the group that puts on the massive annual car show at Vero's Riverside Park where thousands of locals and visitors stroll through rows of about 350 cars under the oaks each year.
He said there's a huge amount of interest in sharing people's love of classic cars – especially among island residents whose garages are loaded with vintage car treasures – and collectors are always looking for places to show off their cars, so he'd be interested to see how the museum could complement the local community of collectors.
"We have about 150 active members, 200 members who show their cars, and 400 to 500 members total, so there are a lot of collectors in Indian River County," Kiesel said. "There are a lot of people who could open small museums of their own, but they keep private collections of 15 or 20 cars in their own facility."
Deturris and Kiesel said the big spring car shows that fell victim to the COVID-19 lockdowns are expected to come back in all their glory in 2021, with Wheels and Keels having already set its dates of April 9-10 at The Moorings.
Gould said he looks forward to networking with the local collectors, dealers and show organizers when he has something more concrete to show them about the museum.
"A museum would be terrific!" said former Indian River Shores vice mayor Jerry Weick, a collector who owns one or two antique cars at a time. "I enjoy all types of motor vehicles and I have had cars all my life, from Model A Fords to new and old Corvettes plus classic Chevrolets. It is my main hobby.
"People just love looking at and dreaming about cars. No matter where I travel around the world, I try to check car museums – in spite of my wife, who prefers art museums. So we compromise and do both."
Jeffries told the city council that Gould would need to go through a full permitting process with the city after he decides exactly how he wants to arrange, use or alter the old Press Journal building's space and the land. For example, if Gould wanted to have facilities for food concessions, or food service for special events, "he would need to meet city code to do that."