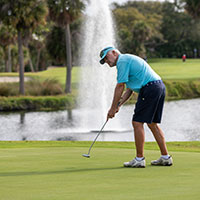 Returning snowbirds will find most private clubs open and welcoming
STORY BY STEPHANIE LABAFF (Week of October 15, 2020)

When snowbirds return to their clubs this fall, they will find dining rooms, golf courses, tennis courts, fitness centers and other facilities open for business – with some restrictions – as club boards and managers strive to get life back to normal.
For members who plan to stay in Vero through the holidays instead of returning north, as many say they do, their families will be welcome to come and join them for Thanksgiving and Christmas dinners at their clubs.
"Members will be able to enjoy the sports and social calendar they know and love, but events will be modified in terms of attendance and socialization before and after," says Ursula Gunter, director of membership and marketing at The Moorings Yacht & Country Club.
"Like everybody else, we're trying to find creative ways to offer regular services without putting anybody's safety in jeopardy," says Tim Straley, general manager at Vero Beach Country Club, where members are now able to walk the golf course at any time of the day.
When seasonal residents headed north earlier this year at the height of the coronavirus pandemic, most of the clubs were fully shutdown. Gradually, over the summer, they reopened with safety protocols in place. Many of those protocols have eased since then.
For the most part, the private clubs are fully open to members and family – grandparents, parents, siblings, children and grandchildren – with access to all amenities at reduced capacity, with hand-sanitizing stations, social distancing, temperature checks and mask-wearing when indoors in place at some level. Non-family visitors are not allowed for the most part.
Gov. Ron DeSantis has lifted all restrictions on indoor activities, but Indian River County private clubs are taking things one step at a time with most continuing to operate at between 50 percent and 75 percent of capacity at indoor dining venues. To offset reduced seating, clubs have added or extended outdoor dining facilities.
For golfers, golf cart shield dividers, no-touch ball retrieval and spaced out tee times are par for the course at the clubs.
Bent Pine General Manager Hugh O'Donnell says instituting tee times is a significant change at his club. "Historically, we're a no-tee-time club." But to sanitize the carts, tee times have become necessary, he explains.
"Our goal," he adds, "is for everyone to be comfortable when they come out here and not really have to think about everything that is going on. We try to keep it as normal as possible and try to think of alternative ways to keep everyone safe."
In that vein, Gunter cites the creation of new outdoor programming at The Moorings, including an Audubon-Certified 1.5-mile nature trail at Hawk's Nest, a Moorings Walking Club and outdoor yoga.
While most of the clubs will be serving Thanksgiving and Christmas dinner, you won't see many buffets on the menu. It's strictly a la carte for the most part, with an extended reservation window so that groups can be spaced out.
Kevin Given, Quail Valley chief operating officer and general manager, says his club has modified its "all-you-can-eat prime rib and lobster buffet," installing Plexiglass partitions to separate the server and the member with only the server handling the food. All other courses are plated and served tableside.
"John's Island Club is offering services to our members and their immediate families," says John's Island Club general manager Brian Kroh. "Through the end of the year, we are not allowing [non-family] guests; and we're not doing any type of in-person events."
Additionally, says Kroh, "we are asking [members and visiting family] coming in from out of the state to provide a negative PCR COVID-19 test and register with our membership office before they use the club facilities – or they can go into a 14-day waiting period upon arrival."
Most of the clubs require staff to submit to temperature checks upon arrival at work, but Kroh says John's Island also requires temperature checks for members at all points of service for an added measure of protection. Several of the other clubs have temperature checks available for members to use at will.
At Orchid Island Golf and Beach Club, members and visiting family have been and are still required to provide proof of a negative COVID-19 PCR test, says Rob Tench, general manager.
"We have a no-guest policy through the end of the year currently. Family members as guests only," Tench adds.
The Moorings Club asks that members and guests coming from out of state self-quarantine for five days before using club amenities. "In lieu of quarantine, they may opt to get a COVID-19 test," says Gunter. "We have arranged for onsite testing at the club several times a week with a local home-health agency that provides results within 48 hours."
"At Quail Valley, we're planning for a very busy and active season," says Given.
"There are obvious challenges and obstacles that are out there in our business. Our team has been resilient and is not making COVID an excuse not to provide great services.
"We're constantly saying, figure out a way to get to yes. If you can do that in a safe and healthy manner that is morally correct and physically possible, we want to. We don't want to lose our hospitality heart."
Bent Pine's O'Donnell concurs, saying that many seasonal residents returning to Vero Beach in the next few weeks indicate they will not go back north for the holidays. So, the clubs are anticipating a very busy fall and winter "season."