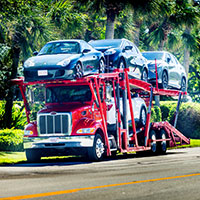 Snowbirds returning to island earlier this year
STORY BY STEPHANIE LABAFF (Week of October 8, 2020)

The first of the season's snowbirds are returning to Vero's barrier island earlier than normal, and all signs point to a strong influx of seasonal residents this winter, according to government and other sources.
Snowbirds typically flock to Vero in mid- to late October or early November, and often return north for the holidays before coming back to spend January through April on the barrier island.
But this year, evidence suggests many plan to come and remain in Vero through the holidays, moving their Thanksgiving and Christmas celebrations here.
"We have noticed an influx of seasonal residents returning over the past couple of weeks," said Indian River Shores Public Safety Chief Rich Rosell, who added he has seen a steady increase in car carriers and delivery trucks throughout September into October, a clear sign that some northerners are returning earlier than usual.
At Pak Mail Beachside, general manager Susan Lorenz said she is hearing from her Fed Ex driver that he is already delivering golf clubs and boxes of clothes to returning residents.
Island clubs have their fingers on the pulse of seasonal residents' comings and goings as members begin to vie for tee times and prime dinner reservations.
At John's Island, General Manager Brian Kroh said he thinks it's going to be a busy season. "We started taking holiday [dining] reservations on Oct. 1, and our phone lines were jammed all day.
"A lot of people were calling to make reservations because they're going to bring the family down. They're arranging for the kids and grandkids to come to see them here for Thanksgiving and Christmas."
Kroh said many seasonal John's Island's members are coming down in mid-October, which is earlier than usual. He says the club typically sees its biggest influx in early November.
Traditionally, many JI members spend early November at their Vero Beach residence and return north for the holidays, then head back to Vero Beach again after the New Year.
This year, however, "they're coming down, and they're just going to stay down, since people look at a gated community as a safe haven," Kroh said. "One of our busiest years was the year after 9/11 because people weren't traveling around the world a lot. They came here and stayed here, and all the kids came to visit here. We're expecting a similar demand this year."
At The Moorings and Orchid Island, residents are expected back more or less on schedule
"We surveyed all our seasonal members, and they plan to return to Vero just as normal," said Craig Lopes, The Moorings Yacht & Country Club general manager. "We have a good group coming in October and November. We're looking forward to a great season."
Based on a survey of Orchid Island Golf and Beach Club Members, club general manager Rob Tench said 90 percent of the club's members are planning to return as they normally would.
"Generally, this is about the time our clients start to return," says Denise Adams, Whitehall Professional Property Management office manager. "We've got a few coming in now, but Oct. 15 is our biggest date.
"Everybody is pretty much looking forward to coming back. There are a lot of people coming in the next couple of weeks. They're anxious to get here."
According to local postmaster Paul Folsom, most seasonal residents retain their Florida addresses while they are up north and have their mail shipped to a summer address once a week until a predetermined date when the forwarding will cease.
"A lot of them set dates of when they're going to be back in Vero, and most of those are toward the end of October. We see the biggest influx at the end of October and beginning of November," says Folsom, adding that this year things seem to be trending in that same direction.