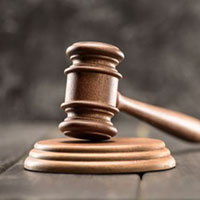 Strong slate of local lawyers seeks to replace retiring county court judge
STORY BY RAY MCNULTY (Week of October 15, 2020)

Undersheriff Jim Harpring, State Attorney Bruce Colton's daughter and a former Florida assistant attorney general are among seven local lawyers who have applied to replace retiring County Court Judge David Morgan.
The candidates were scheduled to be interviewed via Zoom on Tuesday by the 19th Circuit Judicial Nominating Commission, which will submit three to six names to Gov. Ron DeSantis, who then has 60 days to appoint a new judge. In his Sept. 15 letter to convene the commission, the governor wrote that he "strongly prefers" a maximum number of nominees.
Although four years remain on Morgan's term – his resignation takes effect Jan. 31 – his replacement would be required to seek re-election to a full, six-year term in 2022.
In addition to Harpring, who also serves as the Sheriff's Office's general counsel, the list of applicants includes:
• Paige Colton: A former assistant state attorney in Broward County, she's currently in private practice in Vero Beach. For the past six years, she's also served as a Traffic Court hearing officer in three counties. She's the daughter of the state attorney and married to Assistant State Attorney Brian Workman.
• Kiernan Moylan: A former Florida assistant attorney general in the agency's Civil Litigation Division, he's an experienced trial lawyer currently in private practice with the Hoskins, Turco, Lloyd & Lloyd law firm. An Indian River Shores resident, he's also a former assistant public defender.
• Jeff Battista: An attorney since 2000, he was partners in a law firm with now-County Judge Nicole Menz for nearly 15 years and currently is employed by the Vero Beach-based Grall Law Group, where he handles family law and divorce cases. He also serves as a Traffic Court Hearing Officer in St. Lucie County. He's a former assistant state attorney.
• Robyn Stone: A lawyer for 14 years and the daughter of retired State Attorney Bob Stone, she has spent her entire career as an assistant state attorney. She serves as a team member in the county's Drug Court, Mental Health Court and Veterans Court. She also has handled felony cases, particularly as a sex-crimes prosecutor.
• Rebecca White: An assistant state attorney since 2007, she has spent her entire career as a prosecutor, having participated in more than 100 jury trials. In January 2019, she was promoted to supervisor of the St. Lucie County Court Division, managing a staff of 15 while also handling felony cases. She is married to Assistant State Attorney Brian White.
• Elise Kearney: A lawyer for six years, she is an assistant state attorney in Vero Beach.
Morgan, 63, last month announced his plans to retire after 24 years as a county judge. He, too, is a former assistant state attorney who worked for Bruce Colton.
"I've had quite a few of my attorneys go on to become judges, including some who've already gone through and retired," said Colton, who will retire on Dec. 31. "I've always encouraged them."