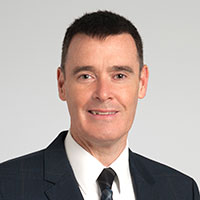 Surgeon named president and CEO of Cleveland Clinic Florida regional division
STORY BY MICHELLE GENZ (Week of October 22, 2020)

An Irish-born colorectal surgeon, Conor Delaney, has been named president and CEO of Cleveland Clinic Florida regional division, replacing Dr. Wael Barsoum, who left in July to join a national healthcare consultancy.
The regional post has been held in the interim by Dr. Joseph Iannotti, who is expected to resume his role as Cleveland Clinic Florida's chief of staff.
Delaney, reportedly once in the running for Cleveland Clinic's system-wide CEO job after Dr. Toby Cosgrove stepped down in 2017, was serving as chairman of the health system's Digestive Disease and Surgery Institute.
In that position, Delaney oversaw more than 800 staff members and 185 physicians at all Cleveland Clinic locations. Last year, his department was ranked second in the world by U.S. News in gastroenterology and GI surgery. It fell one spot to third in the current rankings.
"Dr. Delaney is just a wonderful clinician," said Cleveland Clinic Indian River's president, Dr. Greg Rosencrance, in an interview last week. "He's well-respected as both a physician and clinical leader. He will serve us incredibly well here in Florida."
"Dr. Delaney's accomplishments and leadership experience will further advance our mission and expand our capabilities throughout Florida," said Cleveland Clinic CEO Tom Mihaljevik. "He brings a remarkable dedication and commitment to providing the highest level of quality and safe care for our patients."
"I'm incredibly excited to join the Cleveland Clinic Florida team and contribute to our mission of providing patients access to Cleveland Clinic care while helping grow research and education throughout the region," said Delaney in the statement.
Born in Dublin, Delaney is the son of a noted Irish colorectal surgeon whose namesake, Delaney's own son, Peter, is in medical school at the University of Michigan.
Conor Delaney earned his medical degree from the University of Dublin School of Medicine in 1989 and became a fellow of the Royal College of Surgeons in Ireland three years later.
Delaney dreamed of being a transplant surgeon and moved to the U.S. to pursue training at the University of Pittsburgh Medical Center. In 1999, he arrived at Cleveland Clinic for a fellowship in surgery under the late Victor Fazio, a pioneering colorectal surgeon from Australia. Delaney has held the Victor Fazio Endowed Chair in Colorectal Surgery since 2016.
In Florida, Delaney takes on a division that experienced rapid expansion in the year prior to the COVID-19 pandemic, acquiring not only Indian River Medical Center but the three hospitals and freestanding ER of Martin Health, including Tradition Hospital in Port St. Lucie. The new facilities joined the existing Weston hospital in Broward County for a combined total of more than 1,000 beds.
As Cleveland Clinic's press release pointed out, the hospitals are already above the mean in terms of rankings. Weston tied for the fifth best hospital in Florida; Indian River tied for 19th best; Martin Health was tied for 28th best, out of the 41 hospitals that were ranked. Altogether U.S. News looked at 251 hospitals in Florida, which makes the rankings more impressive. Nationally, Cleveland Clinic was second best in the ranking.
The Cleveland Clinic Florida Research and Innovation Center opened in Port St. Lucie in July, focused on immuno-oncology and infectious disease research, including for COVID-19.
In January, Martin North Hospital opened up the first phrase of a $20 million emergency department renovation. Two years ago, the Weston hospital opened a $200 million five-floor expansion to that campus, not long after it opened a $53 million outpatient facility in Coral Springs.
The health system is also considering building a stand-alone medical office building in downtown West Palm, according to the Palm Beach Post. It already has 30,000 square feet of medical office space in CityPlace and another suite of offices in Wellington that opened last year. It's also purchased a 35-acre tract off Lake Worth Road, triggering speculation it wants to build a small hospital there, though no plans have been announced.
As for Cleveland Clinic Indian River, advancements to stroke care included adding interventional capabilities with the hopes of one day becoming a comprehensive stroke care center. And a new mother-baby campaign is underway to make major improvements to labor and delivery services.