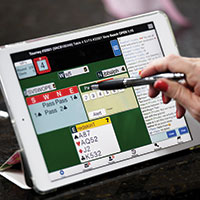 The Vero Beach Bridge Club's 'new normal'
STORY BY ANDREW MEACHAM (Week of October 15, 2020)

Signs of the pandemic in Florida started cropping up in March, though slightly later in Vero Beach than in other parts of the state. At the Vero Beach Duplicate Bridge Club, there were fewer card players at the tables and club leaders had stopped serving snacks and instituted "hand-washing breaks."
Then during a pause between morning and afternoon games on March 16, the club's leadership filed past the card tables to a meeting room and closed the door. They emerged just before the start of the 1 p.m. games and headed to a mic at the front of the room.
"When we came out of that room, I remember people looking at us for some hint of what was going to happen," said Martha Glassmeyer, 70, one of two paid managers.
Club president Dave LeBar stepped to the mic, board members and employees arrayed behind him. The afternoon games would be the last at the Vero Beach Bridge Club for the foreseeable future, LeBar told the group.
One of the club's members, John's Island resident Barbara "Pinky" Regan, 84, had gone to the doctor that day to be tested for COVID-19. She had played in a tournament at the club a week before.
Her test came back positive on March 19, making her the first known barrier island victim of the deadly disease that has since killed 119 people in Indian River County – and more than a million worldwide, according to the BBC.
The day LeBar announced the center would be closed until further notice, the COVID-19 situation did not seem too dire.
"We all underestimated it," Glassmeyer said.
Seven months later, the bridge center remains closed – easily the biggest disruption in the 60-year history of the popular club, where membership had grown to more than 1,100 prior to the pandemic.
Rated at one point the fourth largest bridge club in the country, the bridge center on 14th Avenue had become so well known that avid bridge players retired to Vero specifically to join it.
And the center was about more than just card games. For many it was a lynchpin in their social lives as well.
"A lot of these people, being new in town and having just retired, they don't know a whole lot of people," said Jamie Portell, 63, who co-manages the club with Glassmeyer. "Once they start coming to bridge, they have a whole new circle of friends. Many of them vacation together, they celebrate holidays together. They really form some very strong friendships."
So what have Bridge Club members been doing the past seven months?
Many Vero club members have kept playing the game via computer or tablet, logging on to the website Bridge Base Online.
Bridge Base Online is designed so that bridge clubs can maintain the tools members need to earn masterpoints, a system administered by the American Contract Bridge League and awarded by clubs for excellent play and play in tournaments.
After creating an account, players purchase "BBO dollars" to pay the $7 fee per game (the bridge center kept the price the same as live play). They find their club through one search field and their partner in another.
Like many other websites, there is no requirement players use their real names, and most don't.
Games still run seven days a week, the same as when the bridge center was open, and the number of games has actually increased – members logged 1,164 tables of bridge last month, more than double the 537 tables played in September 2019, as seasonal residents still in their northern homes now can participate.
Online has become the new normal.
But much of the Vero Beach bridge club lifestyle is missing – its zeitgeist as a social hub, sporting arena and bridge university. Pregame strategy sessions at Bobby's or the Riverside Cafe have given way to phone calls.  Members now type messages on computers to opponents they cannot see, with alphanumeric screen names they do not recognize.
Some club members have taken to online bridge without too much difficulty, while others have struggled.
"It can be a little frustrating at times," said Regan, who recovered from COVID-19 and has been playing bridge online for months. "When I first got on it was a little hard to figure out how to get the mechanics of it."
She played with three robots to learn: "They go so fast, but that's how I got it."
"At first I found it mostly difficult," said Max Hughes, 92, the club's controller. "It took me six weeks to become fluent in it. But now I really like it."
Former Indian River Shores town council member Dick Haverland thinks most of the problems people have with the software boil down to being afraid of it. "You can say, 'Oh my God, I never understood computers, I just don't want to do this. Then when you see someone else do it, you understand how easy it is and how the software works. And it becomes easy pretty quickly."
To help those struggling, Haverland organized a group of 10 tech-friendly peers. They have even visited homes and coached players through the software from 6 feet away. Due to bridge ethics rules that forbid coaching of any kind, all computer training must be done outside of playing time.
The bridge center remains empty these days except for Glassmeyer and Portell, who run the business, building and grounds.
They wonder about club members who did not shift to online play.  Some are widowed and live alone. Others don't even do email. Portell said they have tried to keep track of who they've heard from and who hasn't contacted the club. The silent ones will get a card in the mail at some point, just checking in.
"This is their connection to friendships and basically the outside world," Portell said.
She remembers the day they told those regulars the center was closing.
"We knew we needed to close it but ... we weren't sure when we might all be together again."
Seven months later, they're still not sure.