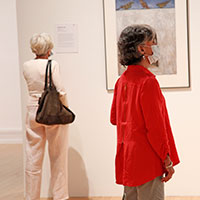 Vero Beach Museum of Art finally reopens galleries and sculpture gardens to visitors
STORY BY MARY SCHENKEL (Week of October 15, 2020)
Photo: Vero Beach Museum of Art members view the Avery to Warhol exhibit.

One of the barrier island's premier cultural institutions has reopened – finally – giving residents and visitors access to a permanent collection of nearly 900 pieces of artwork in a professional museum setting rare in a town the size of Vero Beach.
The Vero Beach Museum of Art reopened its galleries and sculpture gardens last Tuesday, albeit with some restrictions, following an almost seven-month closure caused by the coronavirus pandemic. 
Brady Roberts, executive director/CEO, said he is happy the museum is open again after such a long period of time. 
For the remainder of 2020 and into 2021, the museum plans to offer virtual and hybrid options for some of its programming and events, along with in-person access to museum galleries.
"We have a lot of space in the museum, so we can spread people out safely as long as our numbers stay good in Indian River County," said Roberts. "But we'll also give people the opportunity to attend virtually if they want to do it that way."
Those who prefer to visit the museum will at last be afforded an in-person view of the Avery to Warhol exhibition, a curated of selection of artwork from the museum's permanent collection originally scheduled to open July 17. The show will remain up through Jan. 3. 
Over the summer, Anke Van Wagenberg, senior curator, presented a virtual lecture about the show that Sophie Bentham-Wood, director of marketing and communications, said drew more than 200 online listeners. Additionally, online Museum Extras pages – Anke's Art Moment, Fick Picks, Museum Stories, Art Tutorials, A+ Art, and Museum Fun – have kept the public engaged all through the shutdown.
The museum's newest show, the Chul Hyun Ahn: New Light exhibition, will open Oct. 24 in the Stark Gallery, and will remain there through late spring.  
"The Chul Ahn show is going to be beautiful, and I think a new light is exactly what we all want right now," said Roberts. "So, it's a great time to come and see the permanent collection and things that people haven't seen for a long time. Anke Van Wagenberg did a nice job with the glass selection from the collection and she organized the new light exhibition, so it will be really nice."
Numerous safety precautions have been put in place to protect visitors and staff, including touchless thermometer screening and facemask requirements, as well as a maximum capacity of 150 visitors at any given time. Tuesdays for the foreseeable future will be member-only days, as a thank-you for their support, with the general public invited to visit from 10 a.m. to 4 p.m. Wednesday to Saturday, and 1 p.m. to 4 p.m. on Sunday. 
"We want to make sure people come back in here feeling confident and comfortable when they are here," said Bentham-Wood. "It's actually kind of a nice time to come; it's nice and quiet and you get to enjoy the works."
The museum's closure provided an opportunity to do some work on the HVAC system and to renovate the Laura and Bill Buck Atrium, maximizing the atrium space by making it all one level. That project is still ongoing.
"It was a sunken level and there were stairs and rails and ramps," Roberts explained. "It took up a lot of space and there were some trip hazards that we didn't like. We have a lot people who are celebrating with us in that space, and we wanted to improve it, make it safer. We're getting a lot more usable square footage out of the project. It's going to be very attractive too."
Although the atrium has been enclosed since 2011, the space was originally designed as the open-air Wahlstrom Sculpture Garden. Its centerpiece fountain has been temporarily moved to storage, while the decision is made as to where it will be relocated, likely outdoors.
The ArtZone, Museum Café, Leonhardt Auditorium and Education Wing will remain closed for now, with art classes and some other public programs continuing to be offered online.
The museum's Jan. 29 Gala: Viva Italia, featuring the return of last year's well-liked performer, Michael Amante, will be a hybrid affair. Three options will be offered, from full-on in-person participation at a live performance to take-home dinner options with remote viewing.
The museum's Lecture Series will likely also offer hybrid choices, enhanced by improved broadcasting capabilities.
"There will be a lot of streaming options for people. We're trying to be flexible to fit everyone's comfort factors," said Bentham-Wood.   
"We're learning as we go, like everyone is with this," added Roberts.