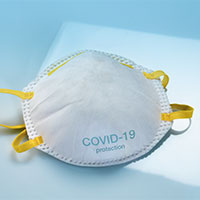 Why have far more students been quarantined than teachers?
STORY BY LISA ZAHNER (Week of October 1, 2020)

As of press time, more than 300 students have been quarantined for potential COVID-19 exposure  at the county's public, charter and private schools, but only a handful of teachers have been isolated.
Five more teachers were quarantined Monday, at Indian River Academy, but that was due to one of the five teachers being infected and the other four having close contact with the co-worker – not due to a student COVID-19 infection.
Just one teacher, on staff at Fellsmere Elementary, has been isolated due to close contact with an infected student. How can this be since students and teachers share the same classrooms?
To find out, we asked the School District of Indian River County, but school officials apparently don't make the call on who gets quarantined and who does not.
"The Department of Health is responsible for the case investigation, contact tracing, and quarantine recommendations," said school district spokesperson Cristen Maddux. "Our district COVID response team is at each school within the hour of a confirmed case to meet the Department of Health and provide support and information. Close contact criteria and several other factors are taken into consideration when making quarantine decisions."
The Health Department confirmed that it sends a person out to each school that has a positive case to investigate and identify the close contacts of the infected person or people.
"Close contacts are those who have been within 6 feet of the positive case for greater than 15 minutes, regardless if they are wearing a mask or not," Health Department spokesperson Stacy Brock said. "Close contacts of the positive case are excluded from school for 14 days, regardless if they are a student or a teacher."
So, apparently, having only one teacher in the whole county placed under quarantine means that of the 18 students who have tested positive for the virus, only one teacher was within 6 feet of those students for 15 minutes or longer.
According to the Health Department, one main factor in the decision about whether to quarantine the teachers who recently taught an infected student is the grade level of the student.
"Regarding your question as to why some teachers may be excluded and some may not, it may depend on classroom size, grade-level, or subject. For example, a teacher that is teaching middle or high school would generally not be within 6 feet of a student and could maintain the 6 feet distance," Brock said. "Lower grades such as elementary may not be able to maintain the 6 feet distance, due to a closer contact with students."
School Board member-elect Brian Barefoot, who will represent the barrier island when the board swears in its new members after the election, agreed with this logic, based upon his research and reports from the trenches that he gets from his two daughters – one a pediatrician, the other a high school guidance counselor.
"The key to answering your question is whether the teacher or students were within 6 feet. In large classrooms, which tend to be in middle and high schools, the interaction of teacher and student is at a greater distance than in an elementary school," Barefoot said, reiterating that the health department takes the lead on determining who is quarantined.
Regardless of whether high school and middle school teachers devote less time to up-close personal attention to their students in the age of COVID-19, quarantining teachers can become an operational nightmare for principals.
In the upper grades, where students might spend an hour with each of six or seven teachers during the school day – as opposed to elementary school where students mostly stay with one homeroom teacher all day – quarantining teachers who have been near an infected student could cause whole schools to shift to distance learning with no notice. That's what happened at the Florida State University Schools' kindergarten to 12th grade school in Tallahassee last week.
The Tallahassee Democrat reported on Sept. 23 that Director Stacy Chambers announced a three-week closure of the middle and high school. The Democrat reported, "Chambers said although the school currently has two positive COVID-19 cases as of this week, it becomes difficult to maintain staffing for in-person instruction."
The Democrat reported Chambers explaining the implications of using more strict protocols to quarantine teachers as close contacts. "Classroom coverage is challenging when even one student has a positive test or needs to quarantine, which can then potentially impact 7-10 faculty/staff members," Chambers said. "The same is true for a faculty/staff member needing to quarantine; multiple classes may possibly be impacted."
Indian River County teachers have complained that they are not being kept safe at school and not being notified when a student they have taught tests positive for COVID-19.