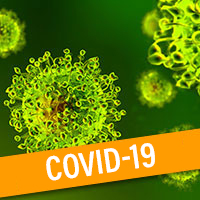 Will the return of snowbirds boost COVID-19 rate?
STORY BY LISA ZAHNER (Week of October 15, 2020)

Having more than 100 new COVID-19 cases each week is becoming the new normal for Indian River County this fall, but hospitalizations and deaths are down, and available hospital capacity is way up from just a few days ago.
Only one COVID-19 death was reported this week and only nine new people had to be hospitalized. As of Monday afternoon, only nine patients were currently hospitalized with the virus and 42 percent of the county's ICU beds were available.
At the same time, barrier island cases are climbing at a higher weekly rate than usual, with eight more cases this week and 28 cases in the past three weeks as of press time Monday, for a total 32963 case count of 140 since the start of the pandemic.
Overall, the island represents only 4 percent of the county's cases. The big question is whether that low percentage will hold once season is in full swing and the gated communities are once again bustling with activity. This week the island was responsible for 7.8 percent of new positive cases.
Four new student cases were reported in Indian River County schools this week. Despite a system of protocols that seems to be working, a group of local parents is demanding that their kids have the freedom to not wear a mask at school.
City officials at recent public meetings have noted that they feel the Vero Beach area is benefiting somewhat from people not wanting to be in large urban areas right now, either due to a resurgence of COVID-19 or to civil unrest. Interest in smaller, safer communities is on the upswing, say Vero city staffers who field questions and process applications for permits and development.
It could be that during a difficult time, even more people are recognizing all that Vero Beach and adjacent island communities have to offer.