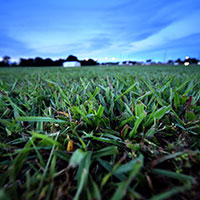 16th Street ballfields property may not be sold to a developer after all
STORY BY RAY MCNULTY (Week of September 10, 2020)

Just last week, Vero Beach 32963 reported that Vero Beach City Councilman Joe Graves was, by his account, close to a deal with Indian River County that would have allowed him to sell the 16th Street ballfields property he owns to an Orlando developer who planned to build homes there.
That has abruptly changed.
This week, Graves said his dream of converting the property into a recreation and youth-activities complex to honor his son has been resurrected with the help of former St. Edward's School football coach Bill Motta.
Graves said Friday he canceled a $1.1 million contract to sell the 11.6-acre parcel he purchased from the county 3 ½ years ago to the Orlando firm. The developer planned to build affordable, multi-family housing on the property.
Instead, Graves said he will keep the land, where Motta – hired in February to maintain and operate the complex – has been running youth, athletic and recreational programs for the past six months.
"Bill's presence has changed things," Graves said, explaining that Motta has used his coaching, administrative and maintenance skills to create programs that have sparked a renewed interest in the complex.
"We've never had someone with his experience and expertise running things," he added.
The programs Motta has started at the Jimmy Graves Sports Complex include ultimate Frisbee, high school football 7-on-7 passing camps, middle school football instructional 7-on-7 passing camps, high school athletic conditioning, 3-versus-3 soccer, youth flag football and youth SNAG (Starting New At Golf).
Motta said more than 80 kids, ages 8 to 13, have registered for a fall flag football league.
Motta also has used the facility for his Christian-based Victory Kids camps, where student-athletes are taught to compete honorably, respect their opponents and live high-character lives.
In addition, Motta organized a football combine at which 32 high school players from four counties – most of them from Vero Beach – participated in six strength, speed and agility drills. Videos of the sessions were sent to 700 recruiting services and colleges.
"There's definitely a need for a facility like this in our community," said Motta, an island resident who coached successfully at St. Edward's for a decade. "Even with COVID, we've had nearly 5,000 kids come through here the past six months for one activity or another.
"Joe's intentions are good, and there's an opportunity here."
Graves' 15-year-old son, Jimmy, was killed in a December 2016 boating accident, prompting his father to start a foundation dedicated to creating youth activities and recreational facilities in the community.
With the county offering a sweetheart deal – a selling price of $250,000 for a parcel that appraised at more than $500,000 – the foundation purchased the ballfields property, located across 16th Street from Vero Beach High School, in March 2017.
Graves told county commissioners he planned to build a recreation and youth-activities complex that he hoped would include a regulation-size track that could be used by Vero Beach High School athletes.
According to Graves, he invested another $250,000 in making improvements to the property – removing antiquated lighting, old and unsafe fencing, a rotting shed and two unusable field houses; repairing the irrigation system and replacing pumps; remodeling the Bud O'Reilly Field House; installing 5 acres of athletic turf; and resurfacing the parking lots.
Graves abandoned his plans after three years, however, when the nonprofit foundation failed to generate the donations needed to fund the project. He then transferred ownership of the land to a for-profit company he owns and put the property up for sale earlier this year, eventually accepting a lucrative offer from the Orlando developer.
Graves said selling the property to a developer was his "last resort, our only option," after his recreation complex plans fell through and no local buyer came forward. He said he approached the Boys & Girls Clubs of Indian River County, school district, St. Francis Manor and other nonprofit organizations about taking over the property.
"We were willing to sell the property at cost," he said.
To complete the sale to the developer, Graves needed to resolve a dispute with the county over a deed restriction limiting the land's use to recreational and youth-related activities.
County officials were willing to remove the restriction, but they wanted Graves to turn over all profits from the sale – after his costs were covered – to the county, which stood to take in at least $500,000. The county planned to use that money to build new fields at Hobart Park and name the complex after Graves' son.
Graves said Friday his for-profit company will retain ownership of the property, but he'll lease the land to his son's foundation to protect his investment in case his second attempt to realize his vision fails, too.
"I would love it if we can make this work," Graves said. "It would be a dream come true."