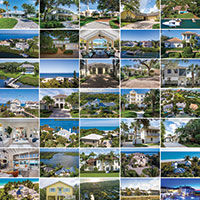 32963 real estate has record summer
STORY BY STEVEN M. THOMAS (Week of September 17, 2020)

The summer of 2020 has been the busiest ever for 32963 barrier island real estate – a record-breaking spree of home buying and selling fueled, ironically, by the pandemic itself, which has motivated buyers to flee densely populated big cities and relocate to small, "safer" locales like the Vero Beach.
Between May 1 and Labor Day, island home sales were up 57 percent compared to the busy summer of 2019, according to data provided by Mike and Kim Thorpe, broker-associates with ONE Sotheby's International Realty.
New contracts, a leading indicator of market volume, jumped almost off the charts, with inked deals up by more than 125 percent compared to the same period last year.
The number of homes priced at $1 million or more listed as sold in the MLS between Memorial Day and Labor Day surged from 39 to 54, with the dollar volume of those sales more than doubling, from $62 million to $130 million.
"In what is normally our quietest time, we have had record levels of sales," said John's Island Real Estate Broker Bob Gibb. "We came out of the COVID shutdown expecting the worst, but it has turned out to be the best summer ever." 
Gibb's brokerage wrote $92 million in contracts between May 1 and Labor Day, an 80 percent increase over the $51.5 million in deals the company secured last summer.
The island market has been "Hot! Hot! Hot!," said Marsha Sherry, broker at The Moorings Realty Sales Co., which set records every month over the summer, with business up 40 percent for June, July and August. And it's not slowing down.
"We have already broken our record for the number of new contracts signed in September," Sherry told Vero Beach 32963 on Sept. 10.
In another example of the blockbuster market, Dale Sorensen Real Estate handled 125 transaction sides amounting to $103.5 million in business between Memorial Day and Labor Day, according to Broker/Owner Matilde Sorensen. That was up from 77 transaction sides and $48.9 million in sales in 2019.
"Needless to say, we are very proud of our sales associates and support staff," said Sorensen.
"The difference this year compared to last is stunning," said Mike Thorpe. "I can't remember a summer this active in the 39 years I have been selling real estate in Vero Beach."
Sally Daley of Daley & Company Real Estate said the hottest sectors this summer included "anything priced from $700,000 to $1 million, anything on navigable water, and homes perceived as move-in ready."
Daley said her company broke records all summer "by a mile," with dollar volume up 48 percent between May 1 and Labor Day.
Island-wide MLS data compiled by Daley shows the dizzying pace of new deals written throughout the summer. Between May 1 and Labor Day, 414 home sales contracts were signed on the island – more than double the 184 written during the summer of 2019.
Sales have also been fueled by the lowest mortgage rates in modern American history.
This astonishing upsurge in real estate activity amidst a worldwide economic and social crisis culminated in August, when the number of new contracts was up 163 percent compared to August 2019, according to Daley's data.
"Summers are usually slow for real estate on the island," said Debbie Bell, a top producer at Berkshire Hathaway. "Normally we might see five properties go under contract in a week in the summer, but this summer we are seeing as many as 30.
"When COVID came along, I thought it would be the end of my business, but I decided to redouble my efforts and work really hard and I have done very, very well!"
"Typically, August and September are our slowest months," said Buzz MacWilliam, broker at Alex MacWilliam Inc. Real Estate. "But this August was the single best month we have ever had in the history of the company, going back to 1949."
MacWilliam was not able to break out his island sales separately, but countywide his company "wrote 64 new sales contracts for $29.9 million in sales volume. Both of those numbers literally doubled what we did in August 2019."
New homes and homes priced at $1 million and more kept pace with the rest of the market.
Between Memorial Day and Labor Day, 28 homes on the island sold for between $1 million and $1,999,000, along with 21 homes priced between $2 and $4 million.
Four home sales closed for more than $4 million, including a $25-million oceanfront compound listed by Premier Estate Properties broker-associates Cindy O'Dare and Richard Boga that was the most expensive home ever sold on the island.
"Things are moving and shaking," said ONE Sotheby's Realtor broker-associate Janyne Kenworthy, who has a portfolio of 20 new luxury waterfront homes listed at Orchid Cove, one of the largest new home developments on the island.
"I have five homes under contract and I'm working with four or five more buyers. The buyers we are seeing are more serious. They are not browsing. COVID has pushed people to do what they have wanted to do – to get out of the big, congested cities up north, to retire earlier and get more living space – and they are taking advantage of the interest rates to make a move."
"Everything is turning out very positive," said Bill Handler, head of GHO Homes, which is building the other 37 homes in the 57-home Orchid Cove community.
GHO has sold 12 of its homes so far, which puts it well ahead of company projections.
"Based on what we thought when COVID shut things down, we are doing far better than expected," said Handler. "But even if you took COVID out of the equation, I'd say our sales are still outpacing what we would have expected for this summer."
Along with local families, brokers say buyers are coming from Vero's traditional feeder markets – the New York City area, including parts of Connecticut and New Jersey, Dade and Broward counties in South Florida, other big cities like Chicago and Boston, and, increasingly, from California.
"COVID was a tipping point for many of the people flocking to Vero," said Boga. "A lot of them were already planning to move here and had enough good reasons to do it but hadn't pulled the trigger. COVID was the straw that broke the camel's back."
"We have low density, low crime, good value in real estate and relatively few cases of COVID," added O'Dare. "Our restaurants and stores are open, and the beaches are beautiful. People perceive Vero as a safe, happy environment and want to bring their families here rather than get stuck in an apartment in a big city if the virus flares up next winter.
"Here people can get outside and enjoy life even if there is an outbreak."
O'Dare and Boga, who sell homes priced at $1 million and up, had a 20 percent increase in number of transactions this summer and saw the dollar volume of their business jump dramatically, due in part to the $25-million sale.
For the most part, island agents and brokers expect the good times to continue into fall and the coming winter season, but there is one cloud in the sunny sky that worries them – a lack of inventory, with supply tightest "between the bridges."
"I have been doing this a long time and this is the lowest our inventory has ever been," said Bell. "There wasn't much on the market after the hurricanes in 2004, because so much was damaged, but there is even less now. It blows me away."
"We have a number of clients we can't seem to place," added Dan Downey, a Realtor with Berkshire Hathaway.
"We have buyers coming by the droves but not much to show them," added O'Dare. "For the first time since I've been here, we are sitting on a pool of ready, able and willing buyers."
"Some people didn't list in recent months because they didn't want people in their house during the pandemic," said Kenworthy. "But I am hopeful that those who were COVID scared will loosen up and begin to list their homes as we go into fall."
The lack of inventory itself is another incentive brokers hope will motivate potential sellers. With so little on the market, prices for island homes are up compared to a year ago – 5.2 percent for homes under a million and 4.3 percent for those priced between $1 million and $2 million, according to data provided by Boga – and presentable homes that are priced right sell almost instantly, often with multiple offers.
"I just did a study for a builder client and found that there's only a 4.3-month supply of homes in 32963," said Mike Thorpe. "Six months is considered a balanced market, so we are definitely in a strong sellers' market!"
Data provided by Boga shows that the supply is tightest on the island in the under-a-million sector, where there is only a 2.69-month supply.
"Inventory is getting very low," said Sherry. "If you are thinking of selling, this is an excellent time to list your property."