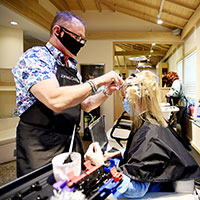 Beachside salons, spas hoping for a surge in October
STORY BY STEPHANIE LABAFF (Week of September 17, 2020)
Photo: James Geidner works with Kathy Chell of Melbourne at the James Geidner Hair Studio in Vero Beach on Friday, September 11. Chell said that she comes down to Vero Beach once a month for her appointment with Geidner.

When salons and spas were finally allowed to reopen after stay-at-home mandates were lifted for the industry, clients flocked to their stylists, barbers, nail techs and estheticians to have their roots done, hair trimmed, eyebrows plucked, and nails painted.
But after the initial flurry died down, things settled into the typical summer slowdown for some beachside salons and spas. The overwhelming consensus among spa owners is that October – the start of the preholiday mini-season – can't come too soon.
Salon Salon owner Heather Berlin says she was closed for nearly three months. A cancer survivor, she closed before mandated spring shutdowns occurred, erring on the side of caution.
"It's been difficult because I lost my entire season. Within those two months (March and April), you make enough to live on. I've been in my salon for 30 years, so I'm well aware that I have to put away for the summer," says Berlin.
She took safety protocols seriously when she reopened, going so far as having a client leave when she mentioned that she had just flown into town from New York. "Everybody's head in the entire salon turned," recalls Berlin. "We asked her to leave and sanitized everything."
Rhonda Martin, the owner of Hair Biz and Company, has been in business on the beach for 35 years. "We lost a lot of revenue," she says. "I don't know how a lot of the small businesses are going to come out of it."
Martin says things are notably slower since her seasonal clients headed north, but she expects things to start picking up in October when they begin to return.
Over at the Beach Barber Shop, where island residents have been having their hair cut since 1984, owner Janine Pfarr says the summer has been a series of stops and starts. After the initial flurry of business when she reopened, things came to a screeching halt when Florida had a spike in coronavirus cases.
Walk-in business from the hotels, people shopping on Ocean Drive and folks visiting year-round residents usually carries Pfarr through the summer, but she saw fewer of those customers this year.
Tanja McGuire, owner of A Pampered Life, a cosmetics store that provides skincare and massage services, and Polished, a mani-pedi lounge, hair studio and boutique, has fared better. While she lost revenue during the shutdown, she said June sales were substantially higher than last year.
"A lot of our seasonal residents stayed longer than normal, and we're seeing people purchasing more at-home spa and self-care stuff. People are opting to buy locally instead of online."
McGuire, who has been in business 15 years, says "we've been able to sustain through this crazy time ... [but it] is the worst thing I've ever been through from a business standpoint."
On a positive note, McGuire says seasonal clients who went north are starting to call to book appointments for October, November, December and some even in January, a promising sign that this season will be a healthy one for her business.
At the James Geidner Hair Studio, Geidner says "it was just insanity [after the shutdown was lifted]. We worked for 19 days straight," noting that many of his clients stayed two or three months longer than in past years.
Besides existing customers returning, Geidner says he had an onslaught of new clients when he was able to reopen – a trend that continues, which he attributes to new people moving to Vero Beach.
Bonnie Stansel, Oceanside Salon owner, says she feels like it's her duty to provide the safest spot she can for her clients without passing on the cost. "I'm doing the best that I can do, but some clients have decided to let their hair color grow out and see what Mother Nature's offered them; but everyone's hair still grows, so they still need haircuts."
The White Orchid Spa at Vero Beach Hotel and Spa had a rolling start, explains Brittany Nuzzi, spa director, because of the variety of services they offer – massages, facials, medical spa services, and brow and lash. Each is overseen by a different state agency.
On June 1, the spa began offering its full slate of services, but several therapists were unable to return to work due to fear, family health concerns and loss of childcare.
Upon reopening, says Nuzzi, "we started with a boom. I think people were looking to get back to normalcy. We definitely had hotel guests because, if they were willing to travel and put themselves in a hotel, there's no difference at that point coming into the spa."
Nuzzi says White Orchid has incorporated sanitization protocols, including masks and touchless temperature scans, among others. "People are coming to the spa to escape from the virus, the stress and the anxiety of it all. We want people see that we're taking all of the precautions that we possibly can while still offering the services people need."
C/Spa at Costa d'Este was closed for six weeks, when the hotel was closed, but has been open since May, seeing a steady increase in business over that time, according to Jessica Milton, regional director of public relations at C/Spa.
Milton says many of the spa's regular local customers have returned, along with hotel guests. Massage is the top service currently being booked, with nail services a close second and facials making a slow comeback.
Chris Walker, Studio Gabriel Salon and Spa owner, used social media to keep in touch with her clients during the shutdown. The stylists provided "how-to" hair survival suggestions and sold color kits and retail items curbside.
Ironically, Walker says her business was so busy last season she considered expanding hours from six to seven days a week before the pandemic. Now, with business down 40 percent compared to this time last year, the Ocean Drive location is open only four days a week and the north location only two days a week.
On the plus side, Walker says she is hearing from seasonal clients that they're heading back to Vero early this year. "We have a lot of people who are coming back in November for the election," which she hopes will boost business.
Sur La Mer Salon manager Cathie Keller says she returned from the shutdown to a slew of messages from clients checking in to see how things were going.
She keeps her doors locked at all times to manage client interaction, allowing only clients with appointments to enter. By extending the salon's hours, she is able to accommodate clients while taking extra precautions.
"We're probably doing the same number of clients as last year; we're just spreading them out throughout the whole day,"
explains Keller.
Over the last few weeks, she adds, she has been taking calls from clients setting up their standing appointments for the season. That's good news.