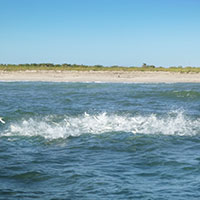 Best time of the year for surf anglers has arrived with the 'mullet run'
STORY BY SUE COCKING (Week of September 17, 2020)

From now through mid-October is the best time of the year if you are a nearshore or surf angler fishing a along the coast of our island.
We are currently in the exciting throes of what fishermen call the "mullet run":  the annual southward migration of millions of forage fish – mullet, pilchards, bay anchovies and glass minnows – spurred by cooling water temperatures along the South Atlantic coast.  
These bait fish are being chased by legions of hungry predators – sharks, king and Spanish mackerel, tarpon, jacks, snook and ladyfish – that just about everyone likes to catch. And those larger fish generally swim within casting range of the beach or just outside the surf break.
"There's no way to get bored out there," said Vero Beach angler and fly-fishing expert Bill Grady.
For those who have never witnessed the mullet run, it looks like somebody set off a depth charge right off the beach, with thousands of small brown and silver torpedoes exploding into the air and larger torpedoes flying and splashing hot on their tails.
Surf fishers launch lures of live bait that they've caught in cast nets at the foamy chaos while boat anglers maneuver their craft just ahead of the traveling schools and throw their baits and lures back into the middle of the mayhem.
Success in hooking large quarry like a tarpon or shark in the middle of the mullet run requires medium-heavy fishing tackle – large spinning outfits loaded with up to 300 yards of 20-pound-test line or something like a 10-weight fly rod with intermediate line that sinks a bit.
However, the annual mullet run is anything but consistent. On any given day, anglers may come upon vast schools of bait, or nothing at all. The movement patterns of the fish change hour to hour, day to day.
"You gotta go out there and search for them," said Sebastian angler Peter Hinck. "You may not see anything, but an hour later, there they are. You have to put your time in."
As an example, one day last week, hordes of bay anchovies and a few mullet swarmed the surf line along Riomar. In one exciting hour at mid-morning, surf casters caught and released two nurse sharks, a whiting and a tarpon, using live mullet and artificial lures.
The next morning, the water off Riomar was quiet, completely devoid of bait fish. But just to the north near Jaycee Park, some small schools of bait appeared, and anglers caught snook and jacks.
Vero anglers are hoping for a bountiful nearshore mullet run this season, which they didn't have last fall or in 2018.  Last September, Hurricane Dorian's strong winds and rough waves scattered the mullet and other bait fish offshore. And the previous year, red tide ruined the bait migration off our coast when it should have been at its peak.
So, when is the best time to get in on this year's mullet run?  High tide, low tide, dawn, dusk, midday?
Said Grady: "Regardless, the bait is going to be somewhere."