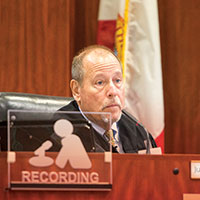 County judge will retire midterm after 24 years on the bench
STORY BY RAY MCNULTY (Week of September 24, 2020)

County Judge David Morgan said health was a factor in his decision, at age 63, to retire at the end of the year after spending the past 24 years on the bench.
Good health.
"I wanted to do this while I'm still healthy and able to do the things I enjoy doing," Morgan said last week, when news of his retirement – with four years remaining on his fifth six-year term – created a buzz in the local legal community.
"I enjoy hiking and camping, and I'd like to do some traveling with my wife, so I've been thinking about this for quite some time," he explained. "I've been working since I was 24 years old. We had kids late in the game. There wasn't a lot of free time.
"So, I'm looking forward to this," he added. "I might even take up golf again."
Morgan, a lifelong Vero Beach resident whose family has deep roots in the community, plans to stay in town and, when needed, fill in as a senior judge after waiting the required one year after his retirement.
He said he recently sent notes informing the other 19th Judicial Circuit judges of his intentions. He also wrote a letter to Gov. Ron DeSantis, who will appoint a replacement to serve out the remainder of Morgan's term.
"For a while now, I've been telling him that retirement life isn't bad," said Joe Wild, a former county judge who has known Morgan since their years at Vero Beach High School. "David has done the job for a long time, and he was a very effective prosecutor before that.
"He's put in his time."
Morgan and Wild became friends when both were working as prosecutors in the State Attorney's Office. They both became high school football on-field officials. They still get together for lunch two or three times each week.
Wild was elected in 1988 and spent 30 years on the county bench before retiring in 2018, when he was succeeded by Nicole Menz. Morgan, who earned his undergraduate and law degrees at Mercer University in Macon, Ga., was first elected in 1996.
Morgan's announcement marks the end of an era, coming in the wake of the recent retirements of Wild, longtime circuit judges Paul Kanarek and Robert Pegg, and outgoing State Attorney Bruce Colton, who is stepping down in January after 35 years as the four-county circuit's top prosecutor.
All of them call Vero Beach home.
In fact, Morgan said the departures of Wild, Kanarek and Pegg contributed mightily to his decision to seek re-election in 2018.
"With everyone leaving, I felt an obligation to stay on and do what I could to mentor Nicole and provide some stability on the bench," Morgan said. "As it turned out, Nicole was ready when she got here, and she made a very smooth transition from private practice to being a judge."
So, after discussing the situation with his wife, Nikki, a prosecutor who retired from the State Attorney's Office in January 2019, Morgan decided the end of this year was the "right time to go."
Morgan prosecuted felonies – including several high-profile, death-penalty murder cases – while at the State Attorney's Office. He was especially proud of his work in convicting Tommy Wyatt for shooting and killing three people at a local Domino's Pizza store in 1988.
"That was probably the most satisfying case I prosecuted," Morgan said, "because I oversaw a multi-agency task force that tracked down Wyatt and his accomplice."
Wyatt died on death row in 2013.
Morgan said handling such life-and-death cases as a prosecutor was a major factor in his decision to become a county judge, where presiding over felony criminal cases is rare. He said he never desired to seek a seat on the circuit bench.
"I'd been in that high-pressure environment for a while," he said. "I made a conscious decision to run for county judge."
It proved to be a perfect fit.
"County Court is more the people's court," Wild said. "You can actually feel you're making a difference in people's lives. And David has always been a people person."