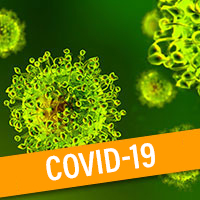 COVID-19 cases on island drop to summer low
STORY BY LISA ZAHNER (Week of September 17, 2020)

Vero's barrier island communities have had the lowest number of new coronavirus cases for a three-week stretch since the beginning of June.
The 32963 ZIP code has added only 10 new positive COVID-19 cases since the last week of August, and the island's total at press time since the start of the pandemic is 108 cases.
By comparison, the mainland area of Vero Beach just across the causeways – ZIP code 32960 – surpassed the 800-case mark this past week.
Hospitalizations have generally remained in the single digits locally, with Gov. Ron DeSantis announcing that hospitalizations are down 73 percent statewide as compared to the July peak.
The percentage of emergency room visits nationwide for COVID-like illness has decreased for eight consecutive weeks, according to the Centers for Disease Control and Prevention.
New COVID-19 cases in Indian River County nursing homes and assisted-living facilities are even starting to ebb, as limited visitation started up in facilities that had no new cases for the preceding 14 days.
The number of positive coronavirus cases in Indian River County's public schools increased from five to 11 as kids completed their third week of fall classes in-person, forcing dozens more students to be quarantined.
Bars were permitted to resume on-premises service at 50 percent capacity on Monday – one of the final steps in the phased re-opening of Florida – as the state's death toll topped 12,000.
It would be easy to get complacent right now, to become careless with mask wearing and hand washing, or lax on social distancing, with high school and college football back, at least in partial swing.
So, are group outings and parties OK? Is it safe to catch the latest movie at the theater? To go to a theme park or outdoor festival? Can the kids start having sleepovers and birthday parties again? When can families begin having traditional funerals with loved ones present?
Those are big decisions individuals must make based upon their own risk factors, considering who else they might infect at home, at work or at school should they become ill.
When can we start living normal lives again without being afraid?
Not quite yet, said the Centers for Disease Control and Prevention. The CDC still has Florida – along with Texas, California and Illinois – listed as trouble spots on its COVID-19 map for the number of new weekly cases.
Public health officials are still urging everyone to do what they can to protect our vulnerable populations of people age 65 and older and those with serious underlying health conditions.
Though the numbers look fairly good right now, Indian River County has still lost way too many people to COVID-19, 106 people as of press time Monday.